'Ghajini', Bollywood film version of South Indian direction of filmmaker A. R. Murugadoss is now being screened at the was released for at Concord Dehiwela and Cine City Maradana. The Hindi version of Tamil of blockbuster was released for Sri Lankan audience from Christmas day and it is reported to be another box office hit.
Produced by Allu Aravind and Madhu Mantena Varma, 'Ghajini' is presented in Sri Lanka by Event Concord (Pvt) Ltd. A remake of its Tamil Ghajini, which was also directed by the same director, the original film was said to have adapted from critically accalimed Hollywood psychological thriller Memento, directed by Christopher Nolan.
And it starred Aamir Khan and Hindi débutant Asin Thottumkal as the lead pair with Jiah Khan, Pradeep Rawat and Riyaz Khan essaying supporting roles. The romantic action thriller that explores the life of a once-rich businessman who suffers from anterograde amnesia following a violent encounter. With the aid of polaroid images an permanant tattoos on his torso, the businessman single-handedly tries to avenge the murder of his vivacious model girlfriend, Kalpana, who was killed shortly before he was also attacked leading to his diagnosis of amnesia.
Akshay Mohan (Aamir Khan), is a rich businessman who owns a cellular phone company named Air Voice. Kalpana (Asin Thottumkal), an advertisement model goes around telling her advertisement crew that she is the love interest of Sanjay, in spite of her having never met him and also goes to the extent of giving an interview about her relationship to a popular magazine.
Sanjay happens to hear about this through the media and wants to settle scores with her. On his way, he catches a fleeting glimpse of a young woman (who happens to be Kalpana) helping handicapped children cross a street. It is love at first sight for Sanjay. He moves on to confront Kalpana at her advertisement studio. He is pleasantly surprised to realize that she is the same helpful woman he saw a while ago. He chooses to hide the fact from her that he is Sanjay, calling himself as Manohar. Kalpana eventually falls in love with him.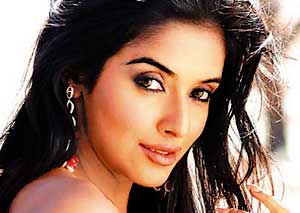 Once, while on a train to Mumbai, Kalpana saves a group of young girls from abuse by a group of goons led by Lakshman (Pradeep Rawat). After a few days, the same goons come to Kalpana's house in order to avenge their embarrassment. Incidentally, Sanjay arrives at the scene and fights off the goons, but during the ensuing fight, Kalpana is murdered. The irony showcased is that Kalpana never finds out that he is Sanjay. Lakshman then strikes the downcast Sanjay on his head severely with a metal rod. Sanjay survives the blow, but acquires anterograde amnesia because of the trauma of his brain injury.
At any given time, he does not remember anything that happened more than 15 minutes back, although he frequently has flashbacks of Kalpana's murder. He determines to take revenge on those responsible for Kalpana's death. The rest of the story is about how Sanjay, along with a medical college student Sunita (Jiah Khan), goes about finding Lakshman and the goons.