On November 4, millions of people across the country braved long lines at the polls to elect Barack Obama to become the 44th President of the United States and the first African American to hold the nation's highest office.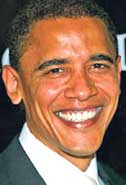 Barack Obama, TIME and TFK Person of the Year
This morning, in New York City, Obama earned another distinction: TIME magazine chose President-elect Barack Obama as the Person of the Year for 2008.
In this 80-year-old tradition, TIME editors recognize the person, group or (sometimes) idea that has influenced events and had the greatest impact on the world for the preceding 12 months.
The editors of TIME point to Obama's confidence and vision for America's future as some of the key reasons for making Obama this year's choice. He overcame more than a few obstacles to reach his goal.
Critics said his rivals had more experience. Some said he had a foreign-sounding, funny name. Still, he surmounted the racial divide to win one of the most dramatic elections in U.S. history.
At TIME FOR KIDS, the question was left open to their readers, who made their pick on our timeforkids.com poll. Kids chose Barack Obama as their Person of 2008. According to their votes, super-swimmer Michael Phelps finished second and Senator John McCain earned third place. Who might become the Person of the Year in 2009?

By Andrea Delbanco, Time For Kids