In just three more days, the dawn of 2009, will usher Sri Lanka into a new era though what it portends exactly remains unclear. Throughout the old year, 2008, the ongoing separatist war has remained the major issue to preoccupy the Government and Sri Lankans alike. The country received the most number of references in the media worldwide on this one single issue.
President Mahinda Rajapaksa, declared in September that troops "will hopefully take Kilinochchi by December, this year" He told editors, publishers and senior journalists during a meeting at "Temple Trees" that the rest of the north would be taken thereafter though he could not place a time frame.
Last Tuesday, however, he announced that 2009 would be the "Year of Triumph over terrorism." The latest remarks came during a ceremony where State honours were conferred on one of Sri Lanka's best-known actresses, Malini Fonseka. Earlier, his military leaders placed deadlines within this year, shifting them from time to time, but earning many a headline in the local and foreign media.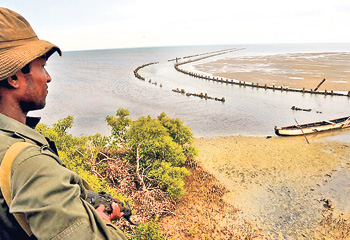 A soldier keeps watch on the Nayaru Lagoon in the Weli Oya sector. It is now under the control of the Army's 59 Division.
One of the vagaries of Sri Lanka's two-and-half-decade long separatist war is the different forecasts made by leaders of successive Governments placing different time limits. This is to achieve military objectives. Some even directed military campaigns towards this end. Thus, for Governments, the separatist war has been political stock-in-trade.
Compared to previous regimes, the Mahinda Rajapaksa administration is distinctly different. It can make a bold claim, perhaps justifiably, for being the largest shareholder in the war effort. Since being voted President in November 2005, he has strengthened the Army, Navy, Air Force and Police to unprecedented levels. He has also modernised them to positions that did not exist before by making available new equipment. In 2008, all this has led to an unprecedented transition.
At no time before have the people experienced such a high degree of security consciousness or experienced constraints arising from them. At no time before have there been so many checkpoints and the introduction of new security measures. One such important measure, already formulated, awaits implementation. It will subject all Sri Lankans to body checks at checkpoints or other locations to ascertain whether they are carrying mobile phones that belong to them. It would become illegal to use one registered in another's name. The delay is because the issue has been challenged in courts.
The exact increase of the armed forces and police cannot be divulged for obvious reasons. However, an aggregate would be well over 300,000. This would include many auxiliary units including the Civil Defence Force. The numbers are growing. It was only last week The Sunday Times (Situation Report) revealed that 32,000 youth responded to the Army's recruitment drive last year. From January to November this year, it was revealed that the response was 38,000. The increases are the result of wide publicity given to military successes.
Of course, as against this, there have been desertions too. From January to November this year, there have been more than 11,000. Those arrested have been tried before a Military Court Martial and jailed. Those who have surrendered availing themselves of periodic amnesty offers have been punished, re-trained and re-deployed.
A military machine that is growing in numbers requires more equipment. That naturally means more money. With top priority given to the separatist war, the biggest challenge for the Government in 2009 would be funding the mounting defence expenditure. True, the largest budgetary allocation of Rs 177.1 billion in 2009 is for defence, an increase of Rs 11 billion from the current year. As past experience has shown, the allocations have always been exceeded with more money pumped in. Delayed deadlines and resultant counter measures are often the main causes.
This is in the backdrop of a global economic downturn that has already caused ripples in Sri Lanka's economy. Tourist arrivals have been low and many resorts are complaining of poor occupancy. The tea industry is in the midst of a crisis with exports hitting a new low. Leading corporate bodies and export houses have not been able to pay their employees bonuses or increments this December. Some are worried about the prospect of retrenching staff to stay afloat. The Government itself is mulling over seeking a bailout package from the International Monetary Fund (IMF).
There is no doubt that the ongoing military campaign against Tiger guerrillas has brought about a qualitative change this year. If the guerrillas did dominate vast tracts of territory in the Wanni, the areas have now shrunk. It is now confined to only parts of the Kilinochchi and Mullaitivu districts. However, the question of the existing guerrilla strength remains a critical factor. Senior military officials have claimed periodically that they are much below a mere 5,000.
Official military accounts seen by The Sunday Times have placed the guerrilla death toll for past three months at 902 killed and 681 wounded. The details are: September 209 killed,323 wounded; October 273 killed and 245 wounded and November 420 killed and 113 wounded. Independent verification of these figures is not possible. For reasons that are now obvious, casualty figures of troops cannot be discussed. Suffice to say the numbers are substantial.
Well-informed intelligence sources, however, estimate the guerrilla strength to be anything between 10,000 and 12,000. This is said to include "policemen" and civilians trained in combat. These sources now confirm that the guerrillas who held back their hardcore cadres were now inducting them into battle, sometimes shifting roles from a defensive posture to engaging in counterattacks. This is how the guerrillas resisted a thrust by some 7000 troops who moved on five different fronts to re-capture Kilinochchi on December 16. Both sides suffered heavy casualties in fierce battles.
Senior defence officials argue that a larger strength of troops and police would be required particularly after they re-capture the remaining strongholds of Kilinochchi and Mullaitivu. The troops are to provide back-up to a string of police stations the Government proposes to set up. This is to be a prelude for the re-settlement of civilians for development activity to begin. All this, naturally will hinge on the re-capture of the remaining areas.
In offering fierce resistance so far, the Liberation Tigers of Tamil Eelam (LTTE) has demonstrated two significant aspects. One is the fact that they have retained their hardcore strength and thrown them into battle to prevent ceding Kilinochchi. Similarly, the 59 Division's advance in the Weli Oya sector beyond Mulliyavalai has seen guerrillas shifting positions further northwards. Preparations are being made to defend the coastal village of Chilawattai, which lies south of Mullaitivu. Similar preparations are also being made inland with the re-positioning of artillery guns and mortar locations.
A large number of civilians trained in combat have been deployed in this sector. More snipers had also been assigned new locations. Intelligence sources say the Sea Tigers, Jeyanthan "Brigade" and Sodia "Regiment" has been deployed to fortify the Mullaitivu area.
The other is the fact that the guerrillas have had recourse to continued military supplies. Last week, the Navy claimed it had destroyed a vessel carrying "war like" material together with four Sea Tiger attack craft. Weeks earlier, the Navy had received specific intelligence warnings of guerrilla moves to smuggle in through the northeastern coast military supplies said to include artillery shells, mortars, assorted ammunition among others. Such warnings had given dates and the sea route the vessel would traverse. Yet, they were not successfull in thwarting the guerrilla move altogether.
More details of the sea encounter have now emerged. An authoritative Air Force source told The Sunday Times the guerrillas had smuggled in a ship load of supplies through the coastal village of Vellamullivaikal (north of Mullaitivu) on December 20. They had been packed in large crates and were brought ashore by guerrilla cadres. "We have incontrovertible video evidence of the entire unloading operation. They were placed before last Wednesday's meeting of the National Security Council," the source said but declined to elaborate.
Though there is no evidence of four guerrilla attack craft being destroyed, the Navy, with the support of the Air Force, did hit one vessel. Naval craft had fired over 900 rounds at guerrilla boats. However, a second one had slipped through to unload military cargo. Similarly, shipments had also slipped through earlier. This was how the guerrillas used large quantities of mortars during the Army's five-pronged thrust towards Kilinochchi on December 16. This prompted an Army officer in the Wanni frontlines to say there was a "mortar monsoon," as reported last week. There were a considerable number of mortar casualties during this encounter.
Since the thrust by some 7,000 troops eleven days ago, there were at least two counterattacks by guerrillas this week. One came in an area between Terumurukandi and Iranamadu on December 20. In fierce battles where both sides suffered heavy casualties, the guerrillas pushed the troops back some two kilometres. Just a day later, on December 22 troops fought back to regain the lost ground though some casualties were suffered. The guerrillas had positioned artillery guns to fire at some locations, which the troops seized.
There were other battlefield gains this week. Troops of Task Force 1 captured a larger area of Kunjiparanthan. This was after they successfully crossed a ditch-cum-bund. From near that location troops of 57 Division moved ahead to gain little ground southeast of the Iranamadu tank. The Task Force 3 regained control of Ampakamam on the Karupattimuruppu-Vaddakachchi Road. South of this road, Task Force 2 regained control of Karuppukutti and Sinna Adampan.
In the Weli Oya sector, troops of the 59 Division advancing northwards regained control of part of the Mankulam-Mullaitivu Road between Muthiyankadukulam and Mulliyawalai. A more significant gain came from troops of the newly created Task Force 4 who were deployed in the western part of the Weli Oya only last week. They re-captured Nedunkerni. Thus, they linked up with forward elements of Task Force 2 advancing from Wanni west to east. Once they formally link up and establish their defences, troops would control a vast, contiguous stretch of territory from Wanni west to east. Weeks earlier, guerrillas had withdrawn from these locations to areas in the immediate outskirts of Mullaitivu to defend that strategic northeastern coastal town. See map on this page for details of gains made by troops.
In the coming weeks, the troops' main focus will be to re-capture Kilinochchi and Mullaitivu areas. On land, they have virtually placed a siege on them. However, at sea, it has become quite clear that the naval cordons have been ineffective allowing the guerrillas to re-supply and offer stiffer resistance.
This year, the Army has made significant gains to deny guerrillas a long-standing reality. That is to deny them the claim that they dominate two thirds of Sri Lanka's land area and five sixth of the coastline. It has now shrunk to areas within the Kilinochchi and Mullaitivu districts. However, that is only in terms of dominating territory.
There was no way the guerrillas could have offered resistance on all fronts in a wider area all the time to a sophisticated, modernised Army. They simply do not have that conventional capability. That is why they had fought to delay systematically a troop advance for months, caused economic and human damage. That is why they have now chosen to defend a smaller area with all their reserves and firepower that is renewed periodically with new shipments. It is for this reason that their military capability should not be underestimated.
The words of ancient Chinese philosopher Sun Tzu said more than 2,500 years ago on waging war are still relevant. He noted:
"….When you engage in actual fighting, if victory is long in coming, the men's weapons will grow dull and their ardour will be dampened. If you lay siege to a town, you will exhaust your strength, and if the campaign is protracted, the resources of state will not be equal to the strain. Never forget: When your weapons are dulled, your ardour dampened, your strength exhausted, and your treasure spent, other chieftains will sprint up to take advantage of your extremity. Then no man, however, wise, will be able to avert the consequences that must ensue.
"Thus, though we have heard of stupid haste in war, cleverness has never been seen associated with long delays. In all history, there is no instance of a country having benefited from prolonged warfare. Only one who knows the disastrous effects of a long war can realise the supreme importance of rapidity in bringing it to a close. It is only one who is thoroughly acquainted with the evils of war who can thoroughly understand the profitable way of carrying it on…….."
President Mahinda Rajapaksa and his senior military leaders are conscious of these sound realities. That is why he has declared 2009 the "Year of triumph over terrorism." Hence, beginning next week, all expectations will be on which way the last phase of Eelam War IV is headed.
Army top brass retire
Some of Sri Lanka Army's senior officers are to retire this week. Among them is Major General Lawrence Fernando, Commandant, Sri Lanka Army Volunteer Force (SLAVF). He is also the Overall Operations Commander (OOC), Central Province.
He will be succeeded by Major General Sumith Balasuriya, now Commandant of the Kotalawala Defence University (KDU). No replacement has still been named for OOC, Central Province.
Taking over as Commandant, KDU is Brigadier Milinda Peiris. He has just returned to Sri Lanka after a stint at the National Defence College in India.
Major General G.A. Chandrasiri, Commander, Security Forces, Jaffna (SFHQ-J) will relinquish office. He will be succeeded by Major General Mendaka Samarasinghe. He is currently Overall Operations Commander (OOC) Colombo. Taking over this position is Brigadier Mano Perera, now officiating General Officer Commanding the Army's 52 Division.