At a time when the general cricket machine is in a slow sinking quagmire, the decline in junior cricket in the near future has been in the focus.

A few decades ago when a schoolboy shines above the rest one could just predict his path into the national side as imminent. But, today though Sri Lanka being a Test playing nation with more facilities available for the development of game, there is more than a general decline in the game at that level.
In search of an answer The Sunday Times sought the views of a man who has been involved with the game at almost all levels in the island. Former National coach Jayantha Seneviratne is one of the few persons in the country who brandishes the level four coaching certificate. Now he has been entrusted with the responsibility of being a national selector while also being a coaching instructor to Sri Lanka Cricket. Jayantha also was the coach of his alma mater Nalanda Collage from 1986 to 2002. He also has handled his Club, Bloomfield for a couple of seasons.

We posed him a simple question – "What's wrong?"

Jayantha sees the commercial exploitation of cricket at Junior Level as the biggest bane that has hit the sport in this island. According to him for a commercial sponsor one has to make the game attractive and to do that you have to make it a commercially viable limited overs game.

There are many uncertain avenues that a young cricketer has to travel in this present trend. In this present system from your younger days you are trained to play limited overs cricket and the focus is win at any cost. As a result negative trends begin to creep in according to Jayantha. He also added "The coaches now teach a young bowler to be economical rather than being a wicket taking bowler. A wicket taking bowler has to be positive and accurate and here the chances of you being scored off are greater. At the same time when the bowler adopts negative tactics then the batsman has also has to develop counter methods. As a result unorthodox stroke play creeps into his repertoire.

"For instance a lot of young players now try to play the slash instead of the drive. When they play the slash they are not in complete control over their shot. They play it because they have seen Sanath Jayasuriya playing that stroke and scoring runs. But, the irony is that Sanath Jayasuriya is a rare gifted player and every young cricketer cannot become another Jayasuriya."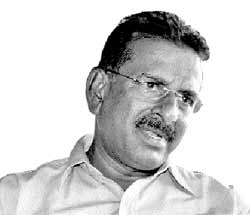 Former National coach Jayantha Seneviratne drives a point. Pic by Berty Mendis
The former National coach made a brief comparison to his school days and now. He said "At that time we played only twelve matches for the season. In spite of that how many cricketers scored a thousand runs for the season? At that time it was a race as to who would get there first. I still can remember from Nalanda Bandula Warnapura was going for it, at Ananda the Wettimuny brothers – Sunil and Mithra had a great following. Then from Royal it was Asitha Jayaweera and Jagath Fernando then at St. Sebastian's Duleep Mendis and Hemal Mendis was hammering away while in Kandy Jayantha Monnekulame and Bernard Perera were piling on the runs. The school standard was as such. The basics that we were taught at that time were to learn to build your innings up. Play in the 'V'. If you were an opening batsman you had that added responsibility of seeing the shine off. So as a result it was the top order batsmen who scored heavily at that time."

It was not only good batsmen that the game produced at that time. The schools also produced bowlers who bagged lots of wickets. Left arm spinners Ajith de Silva from Ananda, Jayantha Amerasinghe from Royal, Sridharan Jeganathan from Wesley and Ranil Abeynaike from S. Thomas' were heavily among the wickets. Then off spinner Lalith Kaluperuma was very effective for Nalanda while among the seam bowlers Leslie Narangoda and Ranjan Gunatilleke stood out. In short what I am trying to say is that schools produced good cricketers with great potential on a regular basis as we were given the right focus and the correct temperament".

Another grievance that Jayantha Seneviratne had was the wrong approach and the focus of the present cricket coaches. He said that Sri Lanka was a Test playing country and the players that come out of schools should have that as their ultimate goal. But, what is happening today was that the coaches churn out players to suit the call of the day that is limited overs cricket and added "May be in limited overs cricket there is a certain duration. But, it is disturbing that twenty-20 cricket also has come in with a bang into the under 19 level. This trend can completely shift the focus of the players. This twenty-20 tournament has come in the middle of the normal schools season. Recently I was in conversation with some current international cricketers and they themselves admitted that the shift from a twenty-20 mind frame to the longer version of building up an inning was difficult. Then I wonder how will these young cricketers who are engaged in the normal schools season could get back into the general trend? This is a real disturbing factor".

There was another aspect that really disturbed the present national selector. It was the discipline. He said "While watching I saw one cricketer wearing an earring and another brandishing a tattoo. These are young schoolboy cricketers, and the heads of those schools should take more responsibility for cricketers who are being telecasted in a public forum. It is imperative that we produce cricketers with discipline".
Finally Jayantha Seneviratne added "the only solution to this problem is to take away all forms of limited overs cricket at the junior level and only have friendlies so that the coaches would begin to teach the young ones the correct approach. Thereafter all such shortened forms could come into the streamline after the under twenty three level where the cricketer has learned his proper basics and could shift his focus according to the need of the hour".