Army retained the national boxing title when they emerged champions at the 83rd National Boxing Championships concluded at the Sugathadasa Indoor Stadium yesterday.

Army though winning the title by a wafer thin margin of one point last year took the title this year with a comfortable margin of ten points securing 34 points to second placed Slimline's 24. In third place was Navy with 19 points.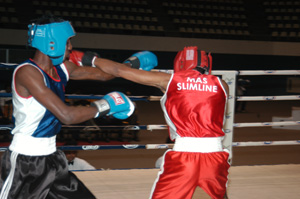 D.R. Wijeratne (left) the sole winner from Ghandara in action against R.M.P.. Dhakshilath of Unichella in the Flyweight Under 51kg bout.-Picture by Ranjith Perera

.
Army's win saw them winning the national boxing title for the 32nd time since the national championships began over eight decades ago.

The champions had eight of their boxers qualifying to the finals while Slimline and Navy being successful in having four of their boxers. Of the 11 bouts that were held yesterday Army won four of their bouts with Slimline and Navy winning three and Ghandara taking the other.

The winners from the Army camp were T.M.C. Tennekoon (Light Flyweight Under 48kg), A.G.N. Bandara (Light Welterweight Under 64kg), A.H.S.S. Athukorale (Light Heavyweighy Under 81kg) and H.M.R.C. Herath (Heavyweight Under 91kg).

Manju Wanniarachchi (Bantamweight Under 54kg), N.S.P. Silva (Featherweight Under 57kg) and R.T. Jayatilleke (Middleweight Under 75kg) were the winners from Slimline while Navy's winners were K.K. Jayasundera (Lightweight Under 60kg), K.A.P. Kandanaarachchi (Welterweight Under 69kg) and D.P.M.H. Dharmasiri (Super Heavyweight Over 91kg) with the sole Ghandara winner being D.R. Wijeratna (Flyweight Under 51kg).

The women's national boxing championships which was conducted concurrently saw MAS Southern emerge champions with 13 points pushing last years champions Army who got 12 points to second place.

MAS Southern had three winners in G.L.N.M. Liyanage (Light Welterweight Under 66kg), S.A.S. Pushpamali (Middleweight Under 75kg) and C. Tharangani (Heavyweight Under 86kg) while Army had two in Chandrika Guruge (Light Flyweight Under 48kg) and P.K. Sumdu (Lightweight Under 60kg).
Army swept away the awards for the best boxer in both the men's and women's category with T.M.C. Tennekoon winner of the Light Flyweight Under 48kg in the men's and P.K. Sumudu who won the Lightweight Under 60kg bout in the women's category.

The best loser's award in the men's category went of R.M.P. Dhakshilath of Unichella while the women's category was won by Army's M.M.M. Susanthi who were the losers of the Flyweight Under 51kg and Featherweight Under 57kg respectively.