Musaeus College surged into the lead with 308 points in the girls events at the end of the second day of the Top Ten Age Group Swimming Championship continued at the Ananda College Swimming pool yesterday.

Ananda Aquatic Club was in second position with 133 points with a deficit of 175 points than the overall leaders Musaeus. Viharamaha Devi Balika Vidyalaya was in third spot with 120 points. It will be a tough task to the second and third placed teams to catch up with the leader Musaeus today .
Ananda's Rasith Chalanga won two events. They were the under 19, 50 metre back stroke and the under 19, 50 metre free style event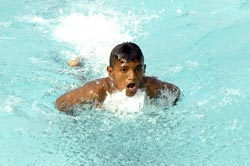 Promod Udugampola of Kandy CEPASA in action in second heat of the 50 metres butterfly boys under 16 event - Pic, by Saman Kariyawasam
Ananda's Achintha Jayasekera swam in second in the under 19, 50 metre free style while P.R.J. Fernando from Sugathadasa Aquatic Association took third place.

In the under 19, 50 metre back stroke event the second place went to Ananda's Achintha Jayasekera while third place was taken Sachithra Mathew of D.S.Senanayake.

Maris Stella's Dineth Sajula Jayakody was first in the under 10, 50 metre free style event and B. Dilanka Shehan from Nalanda came in second. Dilsha Chamod Fonseka from Kumudu Valley Swimming Club took third place.

D. Rahan Indira de Silva from D.S. Senanayake took first place in the under 8 age group, 25 metre free style event. In second place was Eranga Lahiru Wanigathunga from Horana Aquatic Club. Gampaha Aquatic Club's Tharaka Nadun Sirimanna was in third place.

In the under 14, 50 metre free style event Ashen Kurukulasooriya was first. H.R. Senanayake from S. Thomas' was placed second while third place went to Ananda's Abiasha Pathirana

This event is being organized by the Ananda Swimming Pool Management Company.. This championship has been approved by the Ministry of Sports and is sanctioned by Sri Lanka swimming Association (NAASU).

One hundred and sixteen schools are participating from all over the Island. Sixteen international schools are also in the fray. Several Clubs and swimming associations are also participants.

The contest is of a high standard with all the competitors giving off their best.

Today is the final day of the meet and the overall champion will be selected in both boys and girls events.