The biggest sporting event in Australia that is known as the 'Race that Stops the Nation' was once again held on the first Tuesday of November at Flemington race course in Melbourne. To enjoy the 147 year old Australian social and cultural tradition, this day has been a public holiday since 1870 and as usual this year it attracted more than a 100,000 stylish audience, some arriving by Taxis, Limousines, and some by ferries and Helicopters. This sporting event attracts the best race horses from all over the world and awards more than five million dollars in prize money. It attracts over 700 million television audiences over 120 countries and even a bigger audience on internet and printed papers.

The History of the Melbourne Cup runs as further as 1840 but in 1861 the first official race was a dramatic event, attracting 4,000 people; a large crowd at that time and two horses fell and died during the race. 'Archer' became the first legend not just by winning the first 'Melbourne Cup', also by walking a 580 mile distance just to arrive for the Melbourne cup from far away New South Wales Province. He also won the cup the following year and his humble beginnings and extraordinary efforts were celebrated by a 1984 movie called 'Archer'.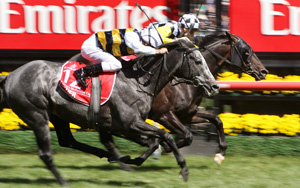 Australian horse Viewed (R) ridden by jockey Blake Shinn heads to the line to beat English horse Bauer (L) ridden by Corey Brown to win the Melbourne Cup, run in Melbourne on November 4, 2008. Viewed gave legendary Australian trainer Bart Cummings his 12th Melbourne Cup with a thrilling photo finish victory over English stayer Bauer in the 3200-metre (two miles) race at Flemington to win the 3.3 million dollar first prize. New Zealand horse C'est La Guerre was third. AFP
Since then, Melbourne cup has produced extraordinary racing heroes and the most popular of them all is a horse called 'Phar Lap' who went on to win 37 races out of his 51 starts including the 1930 Melbourne Cup.

The horse and his young strapper Tommy Woodcock had an unusual bond and 'Phar Lap' even refused to travel for races without Tommy. His amazing wins even at the times he missed the start stunned the punters and critics and it even pushed some of his mafia rivals to take shots at 'Phar Lap'. After many attempts were made on the racing hero's life, even Police escorts were given to 'Phar Lap' and during the time of depression he became the ultimate hero for Australia and New Zealand. Some say, people even bet their bread money on 'Phar Lap' during the depression and he rarely let them down. He later went on to win the world's richest race in Mexico called 'Agua Caliante' in 1932. He shocked the world by winning this grueling race, and was secretly poisoned by his rivals soon after. Less than two weeks after winning the richest race, our hero died in California and while millions of his fans in Australia and New Zealand shed tears hearing of his untimely death over the radio, the American Radio held a one minute silence for the amazing horse. His stuffed hind is now a popular display at the Melbourne Museum and his tragic life is made in to a classic movie 'Phar Lap'. While his death became a controversial topic, 75 years after his death, extensive tests done on his hair and skin at FBI Forensic labs at U.S.A proved that Australian racing hero actually was poisoned. The most recent hero the Melbourne Cup produced was a mare that proved girls can beat boys in a way that no one could ever imagine. 'Makybe Diva' became the first horse to win the Cup three times consecutively and after her 2005 effort she was retired.

One of the main features of this famous race grounds is the Bronze statue of Phar Lap raised in 1988 at the main pedestrian entrance. Now it has the company of 'Makybe Diva's statue that was raised last year.

The beautiful area where horses are stabled while awaiting the races is called the 'birdcage', inspired by historic Newmarket racecourse of England. 'Birdcage' was also the place fabulous lady race goers were on display in the past. There are 130 stalls allocated for racehorses at the birdcage and with small fountains, spring rose beds and walking spaces for horses, 'birdcage' is a beautiful place that people can come and see their favorite horse face to face. It has been a tradition since the beginning for clerks dressed in red traditional dress to be on horses during the carnival. Most of the horses they ride are former race horses and clerks are also accomplished riders and they maintain order at race grounds, escort the winners and respond to emergencies.

'Carbine' is a horse that shares a place in history with Phar Lap as one of the greatest champion of Australian racing. He was not only the great- great grandfather of Phar Lap, but also carried a record weight of 65.5kg's for the 1890 race in a huge field of 39 race horses and won. Victorian Racing club decided to preserve the wooden stall 'Carbine' used to be housed at when he came for races at Flemington more than 110 years ago. It is on display near the Birdcage area.

While hundreds of thousands of punters arrived wearing expensive designer dresses, feathered hats, stylish suits and drank expensive champagne and wine, twenty four horses arrived from places all over Australia, New Zealand, Ireland, England, France and America. These were the top winners of toughest and longest races and are called Group 1 winners and most worth millions of dollars. Amongst Australian celebrities, many imports were seen such as 'Snoop Dog, stylist Carson Kresley and comedian Jenna Elfman'.
While two horses were removed from the race due to medical conditions 22 top runners jumped out of the barriers exactly at three o'clock on 4th of November afternoon sending the hundred thousand crowds in to thunderous roars. Many had high hopes on Irish 'Septimus' and American born 'Mad Rush' who have had many glamorous races under their belts.
The two and a half mile race had many champions confident and in a close group with 'Septimus' leading till the final 200 meters. When cheers went to mad screams and statuesque champions started to sweat heavily showing their muscles and effort to millions of viewers through cameras in the sky and the ones traveling on vehicles on high speed parallel to them the tensions rose. Seven horses kept on in the front group even with the maximum pressure on, and their Jockey's trying as if for a matter of life and death, a relatively less talked about Australian horse called 'Viewed' sprang out of the crowd to the lead. As the commentators started to scream his name a much talked about English horse called 'Bauer' charged chasing the leader.
Bauer didn't give up and as he reached the finishing line with people screaming louder than the sound of thunderous gallops, 'Viewed' held on brave to win the cup just by a Nose, giving his famous trainer Bart Cummings his 12th legendary Melbourne Cup win and his 21 year old young Jockey Blake Shinn a tearful first win. With much prize money, the talented 'Bauer' claimed second while another Australian horse 'C'est La Guerre' the third place. As an expensive sporting event, the Melbourne Cup awards prize money till the tenth place and so claimed 'Mater OReilly'(Aust), 'Profund Beauty'(Ire), 'Moatize'(Aust), 'Mad Rush'(GB), 'Nom De Ju' (NZ), 'Zipping' (Aust), 'Newport' (Aust) up till tenth position in one of the most celebrated races in the entire world.