Muttiah Muralitharan
When the people of America finally gave their verdict and placed the first African American in the 'White House' on issues of two directionless wars and a damaged economy, there were people of all colours rejoicing in unison. The message given by them was that it was time to change and recognise talent as talent.
At the same time at the Republican end senator John McCain accepted defeat and wished all well to president elect Barack Obama amidst jeers from a stone white congregation who were still trying to come to terms on what struck them. May be in their hearts the so called white supremacy still lingers on.

At the other end of the world, in a white majority country called Australia a not so honest retired cricketer by the name of Adam Gilchrist is yet trying to come to terms that a Asian by the name of Muttiah Muralitharan is the greatest ever bowler who had graced the popping crease and delivered.

May be the poor chap is trying to make a quick buck by indulging in Australia's favourite cricketing pastime – Murali bashing, but, bitter hatred that was stored in his heart for quite some time seems to have just poured out with a dot or a comma.

The other day while reading the popular Indian Cricket web-site Zeecric I was more than amused. It read as "Former Australian vice-captain Adam Gilchrist has hit the hornet's nest by calling spin wizard Muttiah Muralitharan a chucker and accusing Sri Lankan authorities of splitting the cricket world between `white` and `black` countries in the `90s.

Gilchrist, in his autobiography `True Colours`, minced no words in saying Muralitharan chucked the ball and alleged that the International Cricket Council protected him after Sri Lankan authorities interpreted questioning of his bowling action as a `racial attack`.

"`Does Murali chuck the ball? ` ... I thought for a few moments, and then said, cautiously: `I think he does`," Gilchrist said referring to a question posed to him.

The former Australian vice-captain lamented that the ICC changed the rules to accommodate Murali instead of rectifying his fault when he was first caught for the offence in mid `90s."

Any cricket lover will remember Gilchrist himself was embroiled in a huge controversy at the World Cup final against Sri Lanka last year when he hit up whirlwind century and took away the trophy from the island nation. But, later it was revealed that he had hidden a squash ball in his batting glove that gave him added power – literally an aid not specified by the ICC rules. But, the Australian-dominated ICC took Gilchrist's side and made that whole episode a non-issue. Subsequently a while later a Lankan cricketer of prominence quipped "I see that in no place is a squash ball included in the permitted clothing in the rules of the ICC".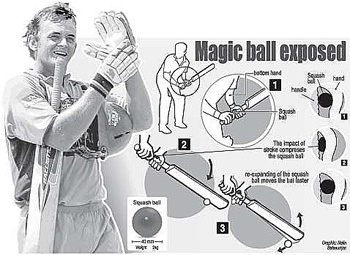 Then later in his book he goes on to say that he was sure not many in international cricket accepted the theory of optical illusion proposed just to bail Murali out.

"...there is no doubt in my mind that his arm did straighten more than the rules allowed when he started playing Test cricket in the mid-1990s... I have heard the theories about optical illusion but I don`t buy them... It should have been dealt with way back in 1995-96 when Darrell Hair and Ross Emerson no-balled him in Australia," Gilchrist said.The former stumper felt the real issue of suspect bowling action was overshadowed when Sri Lankan authorities gave the whole episode the colour of racial vilification.
"But the real issue - does he straighten his arm? – was rail-roaded by Sri Lankan cricket authorities, and Arjuna Ranatunga, turning it into a debate over race. They were threatening a walkout, and there was talk of a split in the game between `white` and `black` countries, because the questioning of Murali`s action was interpreted as a racist attack.

"This was ridiculous, as is proven when you look at the long list of bowlers, fast and slow, white and non-white, whose actions were scrutinised over the next few years and who were taken away for remedial treatment. There was no threat to split the game over these players - only over Murali," said a fuming Gilchrist.

Gilchrist said the issue worsened during Sri Lanka`s 1999 tour Down Under and reached an "absurd" point when the ICC introduced the 15 degree rule."

Prior to introducing the 15 degree law the ICC scrutinized all bowlers who were in action at the ICC Champions Trophy that was held in England in September 2004.

It was a revelation. There the ICC learned that over 85% of the bowlers in operation at that time possessed bent arm actions and only two bowlers – West Indian spinner Ramnaresh Sarwan and another had straight arms at the point of delivery. All the other bowlers including the much feared Australian attack at that time contained bowlers with bent arms. Thus, the net laid to trap Murali misfired and a new rule was introduced as a result.

It is true that his book 'True Colours' reveals the true colours of the former Test player. From the beginning it was a race that had only two contenders – Shane Warne and Muttiah Muralitharan. Now that Muralitharan has won the race to become the "greatest ever" they must accede to it.

However it is interesting to note that Muttiah Muralitharan is not the only cricketer who has faced Gilly's wrath. He even has taken time off to question the integrity of revered Indian cricketer Sachin Tendulkar. Gilchrist has implied that Tendulkar is a sore loser, and has questioned his honesty during last summer's "Monkeygate" affair that soured the relationship between India and Australia.