Last week I ended this column using the text from an email I received from Anton Benedict who was leading me to pray. This week I received an email from him which was of stories on "think before you speak".

The stories are a little too saucy for publication. I now know where we will finally meet again after reading the stories unless I take his message for prayers seriously. The point of his message was to ask "have you ever spoken and wished that you could immediately take the words back'. The stories are hilarious to a point but I cannot write them here as examples.

The reason why this little statement stuck in my mind is because of what's going on in "rugby "a mutual interest we both share.

The present productions of the rugby theatre may not be the best script for winning an award. The story that unfolds is worth visiting and reviewing. If only there was a little more caution. To take time, think and talk. Then some of these issues would have died a natural death. It may have not been taken seriously and would have got the eye and ear of those who matter. Unfortunately the happenings have taken us away from the game while concentration has been to sort out issues that should not have been there at all.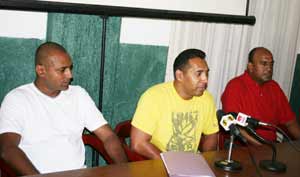 The National Rugby Selectors after resigning last week did a U-turn - Pic by Berty Mendis

The art of negotiation in resolving and handling a conflict situation should have been a "Win – Win" situation. This was never in the mind of those who opted to speak without thinking. It seemed there was nobody who wanted to understand the conflict or the problem at hand. This was becoming a joke that was not evoking any laughter. On the other hand it was a reason to cry as adults kept their end of the debate open dependent on which flavor was garnishing the issue or has been flogged on that day. Was it the Father, Godfather, the Son or the Holy Ghost? Thus we were forgetting that what were important, Asian Five Nation Division 2 matches, our participation and success.

Then there was the unceremonious removal of the selectors and the subsequent appointment of a new committee. This was almost like a chapter from a suspense story which kept most people asking why? Within a very short time the new selection committee too resigned. They explained why and made their intentions known with a press conference to add value. They implied that they have had enough and will not be bending any way to please anybody. I thought it was great till I read elsewhere that they have come back to serve the game and the Minister that appointed them. Possibly now talking to themselves and saying "I wished I would have thought before I spoke. It would not have been this bad if they played ball with the minister's decision to change the composition of the team. Then they could have stayed on and continued as the few comments would have subsided.

They made a public statement and then came back to serve the game of rugby as they should. Good idea! There is nothing you can do by staying out. It is better to stay in and continue your fight. I.e. To contribute to the game we all love. What do a few hostile comments matter? It is great to realize you made a mistake and accept same and come back to fight another day. After all success comes from knowing admitting the mistake and carrying on thereafter. Good thinking: but do I hear somebody laughing and calling names. Please don't be cruel to those who want to serve. Again my heart lights up and my emotions take the better of me in praise as I hear the victory of the under twenty side. Disciplined schoolboys who will come and join a lot who by their actions have brought indiscipline into the game. What future does these young have if we ignore all that has happened.

Another reason I remembered Anton Benedict as I sat to write my column was the refreshing of my memory that he and others resigned as selectors. It was most recently. Probably it was about a year or so ago. Then too, it was said that the resignation was not accepted. They did not stay on as they believed in a principle. Then it was said that they had a strong spine and could stand straight and firm on their conviction. I suppose that was because of environment they were brought up in an era of school education that emphasized on principles and policies. I remember being taught in school on the need to uphold values and that what was important was to stand straight with head held high to defend that right. I suppose that was how Anton was brought up as he was in the same school as I was. Does this mean the others have a flexible spine? Not necessarily that way, it is called living to fight another day.
= Vimal Perera is a former Rugby Referee, coach and Accredited Referees Evaluator IRB