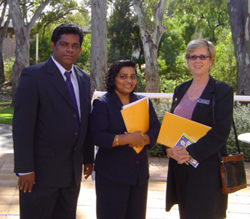 An interview with Managing Director Mr.Kolitha Fernando and Director Mrs.Sujeewa Fernando of Jeewa Australian Educational Center (Pvt.) Ltd.
Students in Sri Lanka aspire for quality education which has become a human need to greater heights and identifying this requirement has brought Jeewa Australian Education to develop a complete solution to a problem which has been affected by agents who charge abominable sums of money and at the same time offer much hardship to the students to select the best university overseas. Jeewa Australian Education is an organization which has a proven track record of thousands students who have made the correct decision in their course of higher education.
Q. What makes you different from other institutions?
A. We are educational consultants and career guidance counsellors by heart and professionally experienced in problem based solutions. Having studied and lived there for a number of years, we have a thorough knowledge of the education system and the needs of Sri Lankan students who aim at completing their higher education in Australia. The lifestyle, rules and regulations, the experiences and problems students face in an alien country, the surroundings are all too familiar to us that we have the confidence of offering a total solution and guidance to students who aspire to live abroad to complete their educational needs.
Many requests from Sri Lankan students have made us share our experience and taking the current situation under review, the younger generation has to be protected from fraudulent agencies that charge highly and sometimes leave the student to fend for him/her. We play by the rules and follow government regulations at both ends, abide by the college requirements and see that the student gets the best and not misled.
We deal with all government recognized institutions registered under the Commonwealth Registered Institutions and Courses for Overseas Students (CRICOS) that is accepted by the High Commission for student's visas.
Q. What is the student intake from your center to date?
A. We have been successful and during the last few semesters and more than 500 students were able to gain entry to colleges in Australia. We have been in this field of education for the past four years and during this period we have sent more than 1000 students.
Q. Can you share your secret of success?
A. My wife and I personally attend to all our clients without leaving our employees to take on any issues. Responsibility is the key operation of our mission and the attention we give is 100%. Our personalized services offer career guidance and are not just a student placement.
Q. How does a student qualify for visa & what are the new visa changes applicable to Sri Lankan student?
A. From 1st of September 2008, Sri Lankan student visa applications assess on a different visa processing level and students or their sponsors need to show that they have financial capacity to cover the tuition fees and the living expenses for the first three years of the studies and the important change is sponsors can be parents, grand parents and the siblings unless they have their own aunty/uncles who are Australian residents for most visa assessment levels.
Other than the financial requirement one should have a certain level of education depending on the age limit. An 18 year old may apply with his G.C.E.O/L or G.C.E (A/L) results while a 30 year old need something more, such as; certificate course or diplomas. It is essential for the student to pass the International English Language Testing System (IELTS) with a level of at least 5.0 or above. IELTS is a mandatory requirement.
We have our own IELTS preparation center at Panadura, Battaramulla and Kandy offices. We are in the process of opening center in other parts of the country too and proud to say that our students performed quite well in the examination. Credit must be given to our dedicated staff and tutors.
You can get all the latest visa information if you visit one of our offices.
Q. How could you identify genuine students and those who aspire to find permanent employment and settle down there?
A. Students who successfully complete a course need not stay on the sly. Australia is the only country that allows students to apply for Permanent Residency (PR) when they have completed their studies and if they have achieved the sufficient points. We advise our students to complete their course and then apply for PR status. It is necessary to complete a diploma or degree course successfully if they want to apply for PR.You can get all the information about skilled migration from www.immi.gov.au.
Q. What advice would you offer parents who are interested in sending their children for higher education to Australia?
A. Parents of prospective students should plan for their children's education early. They should discuss their plans early with us. Since the financial commitment is the most important criteria, they should plan it early before they reach the stage for higher education. We explain and guide the parents and students free of charge.
If you need any more information about Jeewa Australian Education Center and its services please visit one of our offices or email to Mr.Kolitha on Email:
jaec@sltnet.lk website: www.jaec.net. Our contact nos.Panadura office: 0382243418/4282122/ 4281829
Battaramulla office -0112889231 / 0112889232. Kandy office: 0812217350 / 0815633477