'Ask and you shall receive", is said in the scriptures. This is apt for two schools namely Isipatana and Embilipitiya Central

Following an expose by The Sunday Times, Embilitiya received an incalculable amount of rugby equipment from Lankan born Ravi Perera who is based in the United States of America. This donation benefitted the School in particular and infused a new sense of enthusiasm for the sport in the Province as a whole. Isipatana on the other hand is a different story.

"We wish we had a ground of our own", is the heartfelt cry of both Past and present Isipatana College ruggerites. This school over the years has arguably been the best source for the feeder system for clubs and the national team.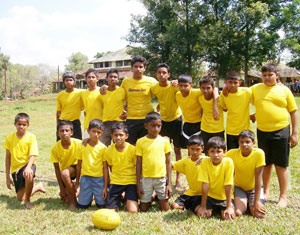 Embilipitiya rugby lads in the news again


Isipatana's performances in the least two years alone speak volumes. For example this year they were the Under 18 western province 10;s champions and all island champions, Under 20 Milo knockout runner up, Western province sevens champs, All island sevens -champs, Zahira invitation sevens champs and Singer /Sril Lankan sevens champs for the fourth time.

If consistency is the criteria for their 'cry' to be answered, then last year they were the Under 18 western province 10;s champions and all island champions, Under 20 singer league runner up, Milo knockout runner up, Western Province sevens champions, All Island sevens champions and Thurstan invitation sevens champions.

Their achievements at the junior level are too numerous to mention. Suffice to say that they are living up to their name as arguably the 'kings of rugby'.

In addition Isipatana set an academy several years ago. In any given year, over 100 (hundred) children below the age of 13 attend this academy.

Thus this school does deserve to have their own ground which in turn will level the playing field when it comes to inter school rugby.

Meanwhile even the juniors at Embilitiya are starting to emulate the giant killing fetes of the seniors. In the recently played All Island Under 14 Rugby Tournament Embilitiya thumped Ananda by 28 points to nil and followed it with an easy victory over Prince of Wales.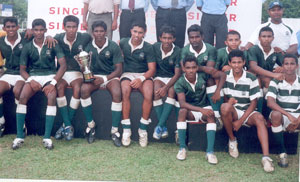 The marauding Isipatana junior ruggerites
In the Cup quarter finals Embilipitiya lost to the eventual tournament winners Trinity by just five points to nil. This was the result of a try conceded in he last minute of regular time.

Coaches of Embilipitiya Saman Gamage and Chanaka Lakshan speaking to The Sunday Times said; "It is extremely hot these days and we have not experienced rain in these parts for nearly three months. As a result the ground is very hard and two players were injured while practicing. Thankfully because of the equipment we received there were only two injuries, without the mouth guards, shin pads and the rest, the injury toll would certainly have been much higher."

They added; "We are able to achieve much more because the boys know somebody cares and that there are people willing to give them the essentials. You cannot put a price on how much this fact alone has motivated them."

They said in conclusion; "We had the best ever Sabaragamuva Inter Club rugby tournament this year.
You would have had to see the tournament to believe it. Perhaps fittingly Embilipitiya Rugby Football Club won the President's Trophy by beating Old Zahirians of Mawanella in the final. We also had on hand three individuals who have helped to develop the game in this Province namely Asoka Jayawardena, Arjun Dharmadasa and Suranga Arunashantha. Now we can actually set targets to achieve and look ahead."