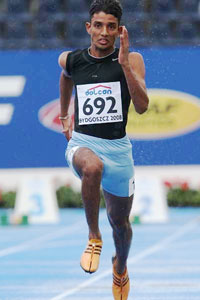 Shehan Ambepitiya
At time when old Mother Hubbard has taken over the fortunes of Athletics, it is encouraging to see another contender dashing towards stardom.

Now it is known that this eighteen-year old student from Gateway College, Shehan Ambepitiya who hails from a not so well to do family from Rajagiriya has already won three gold medals at the just concluded Junior Commonwealth Athletic Championships in "Pune' India.

A little known fact in his 10.43 100 metre effort in 'Pune' is that with this he has equalled the nine year old national record established by Chinthaka de Zoysa way back in 1999 at the Sugathadasa Stadium.
He won the 'gold' medals in the 100, 200 and the 4 x 100 metre events. Besides Shehan the only other medal winners at the meet were his 4 x 100 relay partners – Keith de Mel, Roshan Chamara Silva and Ranil Jayawardena. Besides the above there were twenty two others who took part at this event which included the more familiar names of Jithmi Jayawickrema (national tennis champion), Mayumi Rahim, Andrew Abeysinghe and Inoka Karunaratne (all in swimming).

Ambepitiya whose father is a small time vendor does not possess the wherewithal to provide for his prodigy off-spring as he has another daughter who is ailing with a kidney problem. However, Munchee Biuscuts have come to the assistance of this advanced level student in his activities.