Royal crushed Richmond by nine wickets in their Under 19 inter-school cricket game at Reid Avenue yesterday. Royal's win was initiated by half tons from Kithruwan Vithanage and Bhanuka Rajapakse with Kithruwan cracking a 64 ball 73 inclusive of six boundaries and a six while Bhanuka made a 56 ball knock of 60 with three boundaries and two sixes.

The duo were involved in a 104 runs partnership for the fourth wicket after Sri Lanka Youth player Kushal Janith was dismissed for 39 in the early part of the Royal innings which helped the side to declare at 220 for 8 from their overnight score of 29 for 1 in reply to Richmond's 135.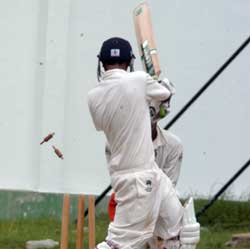 Charinda Nanayakkara of Richmond College Galle is bowled off the bowling of Royal's Maneesha Thanthirigoda. (Pic by Ranjith Perera)
Richmond batting the second time with a deficit of 85 runs found run making a difficulty as experienced spinner and former skipper Haroon Mowjood along with Maneesha Thanthrigoda and Ramith Rambukwelle made things tough for the Richmondites.

With wickets falling at regular intervals the Galle boys were only able to muster the same score of 135 they achieved in the first innings. This left the Royalists a simple target of 55 runs for victory which they achieved for the loss of Kushal Janith's wicket.

Richmond 135 in 55 overs (Iresh Samarasuriya 84; Ramith Rambukwella 2 for 10, Lakshitha de Silva 2 for 20, Haroon Mowjood 2 for 38) and 135 in 50.3 overs (Yasodha Lanka 40, T. Nadeera 31, T. Waduge 27, K. Prabodha 20: Maneesha Thanthrigoda 3 for 17, Haroon Mowjood 3 for 38, Ramith Rambukwella 2 for 11)

Royal (29/1 overnight) 220 for 8 declared in 39 overs (Kithruwan Vithanage 73, Bhanuka Rajapakse 60, hJanith 39, Haroon Mowjood 15: Iresh Samarasuriya 3 for 74) and 55 for 1 in 5.4 overs (Kushal Janith 17, Sahan Hettiarachchi 30 n.o.)

Bad light stops play at Mt Lavinia

Half tons by Shehan Kamileen and Prabodha Arthavidu were the highlights of the drawn Under 19 inter-school cricket match between S. Thomas' and Thurstan at Mt Lavinia yesterday. The match was called off at 4.30 p.m. due to bad light with the Thurstanies making 296 for 6.

Opener Shehan made a top score of 91 which had 12 boundaries and a six while Prabodha remained unbeaten on 57 inclusive of seven boundaries. On day one the Thomians made 207 for 8 before declaring with skipper Ravindrarajah Nirushan making a top score of 50.

S. Thomas' 207 for 8 declared in 77 overs (Ravindrarajah Nirushan 50, Aldrin Kerner 47, Dinesh Walpita 15, Chulaka Kumarasinghe 30 n.o., Chamal Fonseka 20 n.o; Ishan Perera 4 for 77)

Thurstan (6/0 overnight) 296 for 6 82.1 overs (Shehan Kamileen 91, Nuwan Dharshana 34, Indika Massalage 33, Udara Munasinghe 24, Prabodha Arthavidu 57 n.o., Chamalka Gamage 29 n.o; Aldrin Kerner 2 for 17, Pramod Pathirana 2 for 51)

Wesley draw with St. Anthony's

A spirited ninth wicket stand of 55 between Jeevantha and Jayawardena made certain that Wesley avoided the follow-on and thereby consigned their under-19 match against St. Anthony's to a draw at Katugastota.

Batting again, 61 runs ahead, the Antonians hit up a quick 123/6 and declared, setting the double blues a target of 185 in around two hours. But that was never on as rain and bad light intervened.

Adil Reyal (6-40) came up with the best individual performance, while his skipper Palihakkara made a fifty first time out.

St. Anthony's 204 (H.Wickremasekera 37, D. Kumarasinghe 30, A. Reyal 13, M. Perera 13, J. Siegertsz 28, S. Palihakkara 50, S. Jayawardena 4/76, D. Wijesinghe 4/65) and 123/6 dec (D. Kumarasinghe 23, K. Ekanayake 20, J. Siegertsz 22 n.o, D. Wijesinghe 3/35)

Wesley 143 (S. Jeevantha 43 n.o, C. Samarasekera 18, S. Jayawardena 15, A. Reyal 6/40, J. Bandara 2/32)

Kingswood on first innings

Kingswood had to be satisfied with only a first innings win over Maliyadeva in Kandy.
Kingswood 109 in 61 overs (C. Kumarasiri 58 n.o, K. Rahal 19; C. Edirishinghe 4/23, A. Bandara 3/17
V. Perera 2/31 and 133 for 9 in 45-4 overs (C. Dharmaprema 50 n.o, M. Maduranga 45, C. Edirisinghe 6/51)

Maliyadeva 86 in 44.2 overs (D. Madumal 51, M. Ratnayake 21; C. Dharmaprema 5/49, C. Kumarasiri 4/14 and 76/5 in 15 overs (V. Perera 14, G. Mahesh 24, W.Kumara 14. C. Dharmaprema 3/21) - A.K
Sri Rahula win

Left arm spinner Amith Tillekeratne (6/57) bowled Sri Rahula, Katugastota to an exciting 1st innings 12 run win over Tissa MV Kalutara in an under-19 tournament match in Kandy yesterday.

Wanasundera batted stylishly to top-score with 39 for the winners. A bold 51 by Sampath threatened to take the game away from the eventual winners. However, Tillekeratne ensured that they fell short.
Sri Rahula 198 in 71-5 overs (S. Dilhan 30, N. Wanasundera 39, S. Dissanaike 18, G Viduranga 22, A. Sampath 22, C. Dikkumbura 13, A. Tillekaratne 12, M. Chaturanga 3/21, S. Mayura 3/26,
Tissa MV 186 in 60 overs (N. Gayeshan 21, K. Tharindu 25, H. Sampath 51, M. Chaturanga 23, S. Dilshan 18 n.o; A Tillekeratne 6/57, C. Dikkumbura 2/30, S. Dilhan 2/24.
Sri Rahula 19-1 in 12 overs (S. Dissanaike 10 n.o) -A.K.

A bitter battle
Vidyartha and St. Anne's were involved in a bitter battle for the lead at the end of day one in their under-19 match in Kandy.

Paceman Lahiru Herath spearheaded the Annite collapse for 100, taking four wickets. But off-spinner Chanaka Silva repaid them in the same coin, grabbing 6/26 as Vidyartha slid to 92/9, eight runs short.
St. Annes 100 in 41-3 overs (C. Kumarasinghe 32, N. Lankeshwara 16, M. Ratnayake 11, L. Herath 4/41, S. Abeyratne 2/27, R. Weerakoon 3/14)

Vidyartha 92-9 in 49-3 overs (S. Abeyratne 36, V. Wickremasinghe 17, J. Dissanayake 10,; C. Silva 6/26) - A.K.