Sports
---
Doungkeaw swats to make it two
By Harry Jayachandra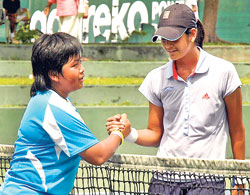 Doungkeaw ending her triumphant stay in Sri Lanka – being congratulated by Kanika Vaidya of India. (Pic Saman Kariyawasam)
Breaks of serve seemed to be the 'in' thing in the boy's singles final between N, Sai Karthik of India and Jason Patrombon of the Philippines at the Junior ITF (International Tennis Federation) tournament which concluded at the Sri Lanka Tennis Federation (SLTA) Hard Courts yesterday.

Tournament 6th seed Karthik went on to win the match 7-6 (7-4), 6-1. But the scores do not reflect the fight put up by qualifier Patrombon especially in the first set.
The two players broke each others serve in the first two games before holding in the next. And so it went like a see-saw in fast motion. The first set was also rather scrappy as both players were guilty of numerous unforced errors.

Patrombon had a sparse but extremely vocal set of supporters to urge him on. Karthik on the other hand was letting himself get flustered too easily, much like he did in last Saturday's final against tournament top seed Vaidik Munshaw of India who incidentally got knocked out in the second round by Adam Thornton-Brown of Great Britain. There was a score of upsets in the boy's singles as is obvious by rankings of the two finalists.

Karthik, though managed to significantly increase his first serve percentage from last week and went up a gear in the in the second set. Karthik broke Patrombon's serve in the very first game and then held serve in the second. The writing was becoming clear on the blackboard. Karthik seldom let his guard down and minimized his unforced errors. Karthik clinically dispatched his opponent in just 25 minutes to take the second set and match, thus becoming second time lucky.

Its Doungkeaw again

Veena Doungkeaw of Thailand had no such problems. Playing in her first ITF tournament, the 14 year old defeated Kanika Vaidya of India 6-2, 6-0 in the girl's singles final to make it two in a row. Doungkeaw who seems to feast on Indians set the court ablaze with canny shots. The Thai cruised past tournament 6th seed Sharaddha Dali of India 6-3, 6-1 on the way to her final's triumph. This girl now returns to her native country where she will be taking part in a Grade Two ITF tournament one week from today.
Gajendra Singh has been a tennis coach for nearly 30 years and currently is the Director of Development at the Mahesh Bhupathy Tennis Academy. Speaking to The Sunday Times about Doungkeaw's performance, he said: "There is no doubt about it she is a very talented girl. She knows her strengths and weaknesses and plays accordingly. Doungkeaw also has the ability to force her opponent to play the ball where she wants it to land. The trait I just mentioned is very rare in players, especially in one so young. The way I see it, she just needs to work on her fitness and be quicker around the court as she moves up the grades on the ITF circuit."

Munshaw gained a measure of consolation when he along with Naveen Saai also of India won the boy's final. They defeated the Thai combination of Kriankrai Prajoubphansri and Nuttorn Tanchainant 6-4, 6-1.
Vaidya also gained a measure of consolation. She along with fellow countrywoman Natasha Palha beat the Philippines pair of Marinel Rudas and Maria Santiago 6-4, 6-3 in the girl's doubles final.
|
E-mail
|
views[

1

]