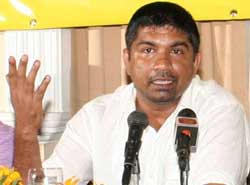 The SLCPA President says his boys will stand by their decision
Upon any development, the thirteen Sri Lankan cricketers who have signed with the IPL and embroiled in a huge controversy that has stirred the entire cricketing world will not budge from their present stance.
The cricketers who initially signed with the IPL when the window was available, subsequently said no to a hastily sewed up series by the incumbent SLC interim committee chairman Arjuna Ranatunga on his own.
When the disagreement with the players involved and the cricket authority was dragging on, Minister of Sports Gamini Lokuge pronounced that the players could honour the IPL commitment over the England tour, but, the English cricket authorities were not satisfied with a Lankan contingent that did not include the Lankan stars in the calibre of Muttiah Muralitharan, Mahela Jayawardena and Kumar Sangakkara.
Former Sri Lanka opening bowler Pramodya Wickremasinghe who is the current president of the Sri Lanka Cricket Players Association explaining matters to The Sunday Times said "It is SLCPA secretary Graeme Labrooy who is the live-wire who is handling this whole episode. However, we have had several discussions with the Lankan cricket authorities and they in turn tried to make adjustments to the itinerary, but, it seem that a tour is not possible as the next T20 World Cup is beginning in England on June 5 2009.
"However it is possible the players will be ready to take part in a three One Day International series once the IPL is over on 26th May 2009. But, the problem is if they could play three one-day internationals between May 26 and June 5 with a few adjustments for travelling."

Meanwhile the English web site Cricket 365 said "Hopes have risen again that Sri Lanka's tour of England will go ahead as planned, after encouraging remarks from International Cricket Council president David Morgan.

Speaking after the ICC's high-profile two-day meeting in Dubai, Morgan reported a renewed will to ensure the world governing body's future tours programme continues to take precedence.
But Morgan has made it clear the England-Sri Lanka agreement is still alive and well.
"In respect of the FTP tour of Sri Lanka to England in 2009, I believe that the chairman of Sri Lanka Cricket, chairman of the England and Wales Cricket Board and other board chairmen have had meaningful discussions such that an FTP event will take place on the scheduled dates in England next year," he said.

"Very good progress has been made in discussions that Arjuna Ranatunga (SLC chairman), Giles Clarke and other board chairmen have had.

"I would like to say that in our deliberations these past two days, there has been a good recognition of the primacy of ICC and FTP events."

ICC chief executive Haroon Lorgat added it is an issue for Sri Lanka and England to settle.
"My understanding is that Sri Lanka are making progress with England, and that's an issue which they will need to resolve," he said.
"From ICC perspective, international cricket is very important - and we must do everything in our power to protect nation-versus-nation cricket."
On Friday, a powerful Lankan delegation comprising Graeme Labrooy, Sidath Wettimuny, SLC CEO Duleep Mendis and Sports Ministry secretary S. Liyanagama were to meet the Indian Cricket authorities in Bangkok yesterday to ratify the $ 70 bailout proposal that Indian Cricket had offered to Sri Lanka.
ICC hoping Lanka will tour England
MOHALI, India, Oct 18 (Reuters)

-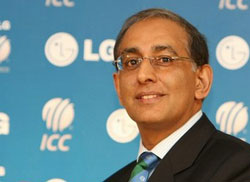 Haroon Lorgat

The International Cricket Council (ICC) is hoping a solution will be soon found to end doubts over Sri Lanka's test tour of England next year over a date clash with India's official Twenty20 league.

"There is ongoing discussions between Sri Lanka and England Cricket Board (ECB) because it is a bilateral tour," ICC chief executive Haroon Lorgat told Reuters on Saturday. "They will continue to sort out and find some way forward." Sri Lanka are due to tour England in next April and May but many leading players are keen to play in the lucrative league scheduled around the same time.

The island's sports minister is keen for the players to be released to play in India amid media reports of the league planning a multi-million dollar package to the Sri Lanka board.

"The ICC would love to see us protecting the primacy of test cricket and it is important that we have those bilateral tours continuing," Lorgat said. "I would hope people take the big picture into account." He said the ICC had not asked the Indian board to step in as it was a bilateral issue between England and Sri Lanka.

"As always we all belong to the ICC, it is one family, we must do the right thing," he said. "If the BCCI gets involved and supports coming to the right answers, of course I would be delighted."