There was uncertainty up to the day of departure due to organizational requirements not completely fulfilled on this so called international cricket tour. That was the case with the T20 tournament which was concluded last Monday. There were doubts of it appening until a dozen hours before the team's departure. The main reason for the "harem-scarem" situation was because the organizing responsibilities stretched across three nations – Canada, U.A.E. (Dubai) and India.

Finally those directly involved sighed in relief, as all were assembled in Toronto at least thirty six hours before the opening day. Canada being nine-and-a-half-hours behind of this part of the world helped somewhat. It is autumn and when temperatures dropped to thirteen degrees centigrade and it rained continuously, two days before the tournament began, it was a gloomy picture.

The next day it got better with no rain and temperatures rising. By the morning of the game temporary stands and shelters had been erected and the arrangements were presentable. Yet the pitch had dampness and the outfield even more damp. Still there did not seem to be the atmosphere for international cricket. The sun got brighter and stronger by mid morning and Sri Lanka got cracking against Zimbabwe, in a game where the overs were reduced to seventeen per side. From then on there was no looking back.

As expected Sri Lanka got the better of Zimbabwe and Pakistan rolled over Canada. Saturday, day two, produced the most entertaining cricket. The first game between Zimbabwe and Canada ended in a tie. It contained the final twist which such games produce. With six runs required in three deliveries, Canada's twelfth man who was on field failed to make a regulation stop on the square leg boundary. The somewhat more experienced Zimbabwean hit the stumps in the first deliveries they bowled. In their turn Canada managed just one. Cruel, but that is how the game is designed.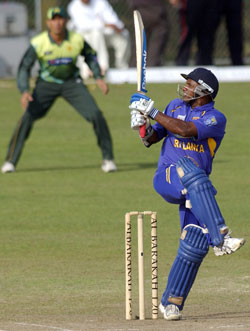 Sri Lanka's openers Sanath Jayasuriya and Mahela Udawatte took the game away from the Pakistani's. Shoaib Akthar and Umar Gul were punished in their opening spells, for dropping it too short and inconsistent line and length. Jayasuriya with 40 gave joy to the supporters and inspiration to his team mates. Although there was a flutter or two in the middle, Sri Lanka coasted to victory.
Sri Lanka decided to rest two key players, in their captain, Mahela Jayawardena and ace spinner Ajantha Mendis. Yet, they nearly scored a victory. Pakistan who were batting second were down and out having lost seven wickets. But skipper Shoaib Malik and debutant Fawhad Alam scored at ten an over and took their team to victory. All those who witnessed the games went satisfied and it set the stage for the two holidays, thanksgiving Sunday and Monday, to attract packed audiences.

Sri Lanka swapped their players in each of their three preliminary round matches to give all an opportunity. That was a good move in providing exposure. Mahela Jayawardena announced prior to the tour that their games were going to assist in giving a chance for the emerging players in T20 to make claims for next year's World Cup in England. On this occasion, Mahela Udawatte, Jehan Mubarak, Kaushalya Weeraratne, Chamara Kapugedera excelled. In this format it is not difficult to have a bad day and one tournament cannot be a complete guideline.

A noticeable factor was that teams did well in the batting department in overs one to ten. Other than in the playoff for third place when Zimbabwe went on to post the highest score of the tournament of 184, the second half of the innings was a flop. That was mainly due to the pitches taking spin and the variable bounce. As the days progressed and more rolling was done and the weather staying good, the pitches got marginally better. Yet batsmen had to work hard for runs which was different, but nevertheless produced absorbing fare.

Weather wise the final day was the best. Warm, but not uncomfortable. The supporters from Pakistan and Sri Lanka thronged onto the grounds. An estimated 8000 spectators enjoyed the day's proceedings. Disappointingly for them, the home team went down tamely to Zimbabwe who clinched third place. Then it was time for the big game. The atmosphere was electric. It was like a home game for both teams. The open stands built temporarily for the occasion was a sea of colour. Mahela Jayawardena won the toss and unexpectedly elected to field first. He said, he felt the manner in which the pitch would play through the game would alter much and was happy chasing. He was correct.

The Sri Lankans were committed to the task at hand, to a player. Fernando, Maharoof, Thushara and Weeraratne, were accurate, gave as few runs away and picked up regular wickets too. No batsman was allowed to settle in. In between Mendis was solid. Against Canada the previous day the captain used him in four one over spells. That proved successful, because either a breakthrough was provided or the runs were chocked. Mendis bowled in similar fashion in the final and picked up three wickets and eleven in three games. He was rewarded for the effort bagging the 'Man of the Series' award – a luxury apartment in the UAE. He can live in comfort someday when he moves out of the barracks in Panagoda!!
Sri Lanka's openers Sanath Jayasuriya and Mahela Udawatte took the game away from the Pakistani's. Shoaib Akthar and Umar Gul were punished in their opening spells, for dropping it too short and inconsistent line and length. Jayasuriya with 40 gave joy to the supporters and inspiration to his team mates. Although there was a flutter or two in the middle, Sri Lanka coasted to victory.

It was a successful and enjoyable tour in the end. A core of players for T20 cricket emerged and the first major victory was achieved.

= Ranil Abeynaike is a former Sri Lanka cricketer and curator of SSC