The Kandy-based Vehicles Cooperative Society – set through cooperatives, said there was no need to register the unit with the Central Bank, since it was already registered with the Cooperative Registrar.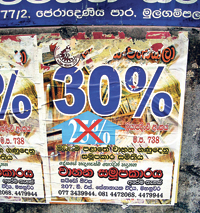 A poster of the company.
General Manager U.M.H. Kularatne of the Vehicles Cooperative (a cooperative finance institution) of the Central Province said that the Minister of Cooperatives Bandula Gunawardene had been making statements regarding the Vehicles Cooperative of the Central Province without knowing the true facts of the case and thereby has created a bad impression on the depositors who are now seeking to withdraw their deposits.
He added that there is no necessity to register with the Central Bank of Sri Lanka, since they have registered with the Registrar of Cooperatives, in the Central Province. Mr Kularatne said due to the Minister's comments, their security deposits have gone down and this could trigger a crisis.
Its Chairman Nimal Pradeep Jayasinghe said that it not necessary to register with the Cenbtral Bank, since they are registered with the Cooperative Department of the Central Province under Statute No 10 as a devolved subject. He also added that the Central Bank had come once and looked into their books
The General Manager admitted that there is no security available against the investments, though the principle has been to keep 10 % as security in a crisis.
He added that though the older depositors are sticking with them, the new depositors are seeking the withdrawal of the deposits made and this has created a serious conflict in the Cooperative Society meant for vehicle finance and for the depositors, who are doubting their good intentions.
He said that since they have been leasing their vehicles, they are not in a position to request those leases to bring back the vehicles as these are by agreement. The statement made by the Minister has created 'havoc' among their depositors, he added.