A feisty joker and an eighty-year-old king stood out the stage as the Shakespeare season unfolded last month. From being beaten up repeatedly to practise reaction, to observing old beggars on the street, Finolla Outschoorn of Ave Maria Convent, Negombo and Yasas Ratnayake of Royal College, Colombo, who won Best Actress and Best Actor at the All Island Shakespeare Drama Competition 2008 respectively, have had their share of unforgettable memories this year.
Fourteen-year-old Finolla had her first taste of "Shakes" in 2006, playing a non speaking character in Romeo and Juliet. Two years later, hundreds of ardent Shakespeare fans watched her witty and entertaining performance as Feste in The Twelfth Night.
| | |
| --- | --- |
| | |
| Yasas Ratnayake | Finolla Outschoorn |
"My experience comprises of many sweet and valuable experiences. It was a confirmation of all the hard work and commitment we put in, as well as all the faith we had in each other," she recalls.
Such was the commitment of the cast that both director and fellow actors had no qualms about beating Finolla up on a regular basis, all in an effort to help her improve her reaction skills - all in the name of drama.
"It was all more than worth it though!" she exclaims. "I enjoyed every bit of it; I realised that the hard work begins as you set your foot on that stage – in the shoes of the character, and you give it your all. It takes a lot of effort, but as for me, I cannot help but enjoy it!"
At first, Finolla had been slightly apprehensive about the role she had to play. "But from the moment I was given the part my cast gave me a lot of guts and spirit, and also reminded me that I have characteristics of Feste anyway," she smiles. "Actually, some of my antics off stage used to bother those who worked with me," she admits. "If I forgot my lines, I would be quite terrible – I would hit or break things like props, and also the flight of stairs we used on stage was broken several times, by me!"
She had a great deal of support from others around her too; she mentions her parents, Rev. Sr. Francine Muthugala her Principal, Teachers-in-charge Ms. Anoma Fernando and other teachers, director Sashane as well as her friends, cast and crew.
For Finolla, drama, with all its challenges and hard work, is something that is always worth the trouble taken. "The moment you get up on stage you forget yourself, and you are every bit the character you are portraying. The important thing is not to be nervous," she says.
Years down the line, with her doctorate in Bio Science, Finolla is optimistic that drama would still be a very big part of what she does. "I believe that, whatever we do in life, we have to do justice to all the hard work and commitment put in, and drama really helps you to do that," she concludes.
Speaking to Yasas, it was evident that in contrast, he had far more acting experience, both in The Shakespeare Drama Competition and elsewhere. "Right from the start," he recalls, "performing King Lear was a whole new ball game for all of us. I was not familiar with the entire text, but after reading it through, it is in my opinion one of Shakespeare's greatest works. Still, it was not an easy drama to materialise into a play, and we decided to play it straight – the way Shakespeare intended without any of the gimmick we had introduced in some of our previous plays."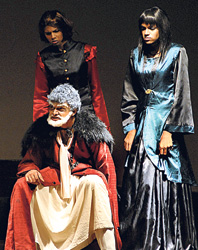 Too old for his age
Getting his first exposure into the world of drama at a fairly early age through speech and drama lessons, Yasas went through a great deal of characterisation in order to assume the gait of an eighty-year-old.
And the transformation was drastic. He stooped, wheezed occasionally, had all the mannerisms of a feeble old man and gave off a stunning performance which highlighted King Lear's downfall to perfection. "At first, I had developed a tendency to make King Lear's character bear resemblance to the characters of Macbeth or Hamlet, but I had some help from Ruwanthi De Chikera who helped me act as the old man that King Lear was – though it was more difficult, it worked far better," he explained.
Yasas also speaks with gratitude of the director – Anisha Yasaratne. "He was a total perfectionist; and his passion for perfection rubbed off on us as well, to a certain extent. He looked into every single detail of our performance and never rested until he considered it satisfactory."
As for winning the award for Best Actor, Yasas' attitude to the triumph differs to that of many actors. "I do not mean to sound falsely modest," he says, "but I actually couldn't care less at the time because my main aim then was to have Royal College get the trophy back. I remember telling the guys on the cast that we should not let the triumph get to our heads before the finals because the finals would be that much more challenging compared to the semi finals."
In his final year at school, Yasas works in the position of Deputy Head Prefect. He will leave school soon, to continue his studies in International Business in the US.
"For me," he reflects, "I love to be able to forget myself and real life, and just be someone else! I really look up to the likes of Al Pacino, Don Cheadle and Forrest Whittaker; and I sometimes think, if they can play other people so well, why cant I?"