When they are young, they cannot do without it, but as they grow older it turns out to be more a bother which in some instances could even lead to death, rather than an asset.
The prostate is indispensable in the young male, explains Consultant Urological Surgeon, Dr. Neville Perera of the National Hospital in Colombo, grouping the problems this gland can cause into three.
The prostate is a golf-ball-size gland surrounding the urethra at the base of the bladder in males. Its alkaline secretions contain prostaglandins which contribute to the volume of the semen and activate sperm to become motile (move) in the vagina. "The prostate provides fluid and nutrition to the sperm," stresses Dr. Perera adding that if not for the prostate a person could become infertile. "However in older people it can become a nuisance."
Prostate-related problems which can occur in different age-groups are:
Prostatic infection including chronic prostatitis and pelvic pain syndrome
Age-related enlargement or Benign Prostatic Hyperplasia (BPH)
Prostate cancer (See box please)
Prostatic infection including chronic prostatitis and pelvic pain syndrome
Affecting young males in the 20-35 year age group, a burning sensation when passing urine, pain in the urethra which sometimes radiates to the rectum, increased frequency in passing urine and low-grade fever could indicate this disease. "It is a common but less addressed problem among males who suffer in silence," says Dr. Perera explaining that the symptoms "come on and off, waxing and waning".
Unfortunately, according to him, treatment with antibiotics and other types of symptomatic medicine such as prostate relaxants and anti-inflammatory drugs, suppresses it for a while but the disease will surface after a few months.
Although there is no permanent cure, the good news is that after a number of years, the disease which is self-limiting, will disappear of its own accord.
As the symptoms are disabling and the disease recurs even after treatment, which is usual, an important factor is the patient's anxiety. This could lead to depression and the doctor must explain the recurrence issue to the patient.
Age-related enlargement or Benign Prostatic Hyperplasia (BPH) - This is one of the commonest diseases among older males in the age group 40-65 years. One in every four males will have an enlarged prostate due to BPH and of this number half will need treatment. "This is a concern, with Sri Lanka estimated to have an aging population - with one-fourth of the population being over 65 years - by 2015," says Dr. Perera.
The symptoms could present themselves as either "irritative" or "obstructive" or both which were earlier referred to as "prostatism". The irritative symptoms are a burning sensation when passing urine, increased frequency in passing urine (normally it would be five times during the day and none in the night), sudden uncontrollable urge to pass urine, leaking urine and bed wetting or incontinence.
The "obstructive" symptoms caused by the enlarged prostate blocking the urethra could come in the form of a delay in initiating the stream of urine (hesitancy), poor or intermittent urinary stream and a sudden stoppage or acute urine retention due to a complete block.
The initial treatment would be somewhat similar to managing prostatitis differing only if there is a block which would be dealt with by inserting a catheter followed by the medication, MediScene understands.
However, as there could also be other causes such as scarring of the urethra (strictures) and stones blocking the urethra, which present similar symptoms, further evaluation with clinical examination, ultrasound scan and urine flow rate study is mandatory prior to definitive treatmnt, he says.
Although about two decades ago, most BPH patients underwent major open surgery for removal of the prostate, Dr. Perera says, with new drugs to shrink and relax the prostate, operation rates have come down by 50-60%. Even the rest don't undergo open surgery but endoscopic surgery without any external incisions or cuts. "It is rarely that open surgery is performed and that too only in the case of very large prostates," he stresses adding that the gold standard for this is Trans-urethral re-section of the prostate (TURP) carried out under spinal anaesthesia. TURP, which is relatively pain-free, would entail only a 2 to 3 day stay in hospital.
As in rare instances of very large prostates, there could be complications such as bleeding and infection, newer techniques such as laser prostatectomy have been introduced. However, these are prohibitively expensive, MediScene understands. For smaller glands, the best option and conventional method would be TURP
Prostate cancer: Early detection the key
It is curable if detected early before it has spread outside the prostate but regrettably there are many deaths because patients come in late, laments Dr. Perera giving some shocking statistics. The dreaded problem of prostate cancer is the commonest solid cancer in elderly men and the second commonest cause of death, MediScene learns, as estimated in the west.
Usually appearing at a later age, in those between 60-80 years, the symptoms are almost similar to Benign Prostatic Hyperplasia (BPH). "Only in the later stages when the cancer has spread that bone pains and other body aches and pains occur," says Dr. Perera. "By that time it is too late, and sadly in the Third World people come in late."
A few simple tests would, however, be the deciding factor in this life or death issue - whether it is BPH or cancer. Urine and blood tests including a blood test known as PSA (prostate-specific antigen) are important in detecting cancer, he says, adding however that unfortunately PSA is not 100% accurate in early diagnosis. "PSA levels can go up with infections and manipulations like a rectal examination, giving a false value."
In western countries, men over 45 years of age do a PSA test, though expensive, as a routine screening test. As even an ultrasound scan of the abdomen which gives the details of prostate size and degree of obstruction (blockage) to bladder and kidneys by the prostate will not help to differentiate between cancer and BPH, along with the scan a special test called uroflowmetry should be carried out, advises this Urological Surgeon. This test checks how fast the bladder can empty.
If through the PSA test and also clinical examination, cancer is suspected, a biopsy would also be necessary. The best way for this biopsy - Trans-rectal ultrasound guided prostate biopsy or TRUS - is to insert the needle with ultrasound guidance under local anaesthesia. In 90% of instances, with this biopsy, cancer can be detected, he says, adding that fortunately only in 30-40% of patients with a high PSA that the biopsy will come out positive for cancer.
If cancer is detected, then further investigations such as CT and bone scans would be needed to assess its spread.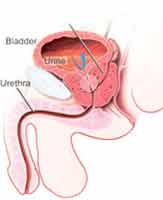 Enlarged Prostate/BPH
The complete removal of the prostrate through open or laparoscopic surgery would be the answer in case of early prostate cancer. People who are too feeble to undergo surgery will need radiotherapy and measures to reduce the male hormone, testosterone, on which the cancer cells depend on. "For a patient with a life expectancy of more than 10-15 years, surgery would be more beneficial," says Dr. Perera, adding that in Sri Lanka the life expectancy of a male is 73 years.
Some prostate cancers are low-grade and due to slow growth may take 15-20 years to harm the patient. These cancers are usually kept under observation (active surveillance), through a series of clinical examinations and PSAs, without any treatment. At the earliest signs of progress, surgery is performed or radiotherapy administered, it is learnt.
Contrary to popular belief, total prostatectomy or radical surgery is now being carried out at premier hospitals including the National Hospital, stresses Dr. Perera. In some instances of radical surgery, patients should be aware that there could be a possibility of delay in urine control and also impotence (erectile dysfunction). In radiotherapy, though there may not be any immediate effect, patients may develop bladder bleeding, incontinence and impotence after one or two years.
Testosterone production could be curbed through male hormone ablation treatment either by means of surgical removal of the testes (orchidectomy) or anti-androgen drugs. But both these would have a collection of symptoms called andropause (similar to menopause in women) including bone weakness and impotence.
If advanced prostate cancer is detected at a later stage, a cure is not possible, with only radiotherapy, hormone treatment and chemotherapy available to try to control its spread.