1. In both Gorakana and Dematagoda, minister Alakeshwara's armies attacked the Jaffna army and serious fighting continued. The soldiers of Jaffna were defeated. Their ships were at anchor in Panadura harbour. They were all destroyed by the Sinhala soldiers. They even blocked the flight of the few enemy soldiers who could save their lives. In this manner, the country was saved from the enemy. Once the situation improved, King Buwanekabahu came to Gampola.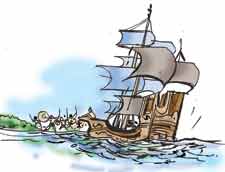 2. Scholars have come across an inscription put up, in the 9th year of this king's rule. This inscription has been found in a place called 'Sagama' in the Kandy district. This inscription mentions two important things. One - a clue to the effect that there was an invasion by Aryachakravarti and the other to say that there were many enemies for both Alakeshwara and his brother Devamantri. They have been helped by the God Natha. God Natha had appeared in their dreams and told them what to do. They are supposed to have followed this advice.
3. As they acted according to the advice of the God, they were able to defeat the enemy. These little details, cannot be ignored completely, saying it was just a case of belief in gods. Whatever it may be, some scholars point out that King Vickramabahu III ruled at least for 18 years. His successor was King Buwanekabahu V. He became king in the 15th year of King Vickramabahu's rule.
4. When events are considered in this manner, King Vickramabahu's year of kingship, could be either 1371 AD or 1372 AD. That is the year in which Buwanekabahu V came to power. Along with this, there comes another theory. That is to say that this Buwanekabahu belonged to the Alaskeshwara
generation. In a book of poetry, it says that Buwanekabahu's mother, Queen Jayasiri was married to Alakeshwara and his brother.
5. In yet another source, he is referred to as Alagakkonara Buwanekabahu. However, these two kings were both nominal kings. The administration was done by the minister Alagakkonara or Alakeshwara. He was the real ruler of the country. In a book written in 1386 AD there is a reference to him as – 'Alakeshwara Lankadhipathi' – meaning Alakeshwara the ruler of Lanka. His brother Attanayake is also described in detail.
6. For a period of about 20 years, this Alagakkonara had been the most powerful person in the country. It is not only because of his military strength and political success that he became famous but also because of his great contribution to Buddhism, literature and education. The year of death of this famous man, is not clearly stated. It is guessed that it could be either 1382 or 1392 AD.
7. After his demise, it is his son, who succeeded him. He was Kumara Alakeshwara and is also referred to as Alagakkonara. Because he took the name Kumara also for use, there is reason to believe that he was another son of Queen Jayasiri. It was for a very short period that Kumara Alakeshwara could rule. The deceased Alakeshwara's sister's son, wrested power from him.
8. He was Veera Alakeshwara, by name. In certain places, he is referred to as Alagakkonara V. His period of rule was also short. His younger brother wanted to come to power. So the two brothers fought a battle in Raigama, their home town. Veerabahu won and Veera Alakeshwara fled. He had gone overseas.