Scenes never before played out in the more than two and a half decades of separatist war are being enacted in the Wanni, the theatre of bitter battles between the security forces and Tiger guerrillas.
On the military front, troops are on the doorstep of one of the Tiger dens or their political stronghold, Kilinochchi. It is now a matter of time before troops regain control of this strategic town. When that happens, the next den, the military strongholds in the adjoining Mullaitivu area will be the focus of the troops. Completing the two tasks would at least make sure; there would be little ground for the guerrillas to dominate. This scenario has prompted both military and political leaders to forecast that they would return to their infant days of the guerrilla movement - go underground and try to start all over again. Yet, it is still too early to forecast coming events.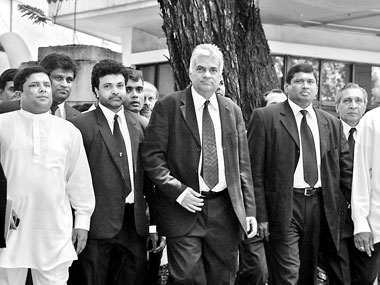 Opposition UNP Leader Ranil Wickremesinghe going to courts flanked by party supporters including some of the party rebels. Pic by Sanka Vidanagama
On the civilian front, the ongoing military campaign has had its own impact. An estimated 200,000 civilians have fled the towns and villages east of the A-9 highway. This week, as the troops and guerrillas engaged themselves in intense artillery duels, more families fled Kilinochchi. The vast majority of all these families have found safety in vast stretches of open land in the eastern part of the
Mullaitivu district. Perhaps their reluctance to heed the Government's call to move to security forces-controlled areas is understandable. Government officials expected them to return in large numbers to Vavuniya where more temporary IDP camps could have been set up to provide food and medical care for them.
However, the civilians are only too well aware of the dangers that portend in coming to Vavuniya, the northernmost town under government control, where paramilitary groups regularly hunt down guerrilla cadres. Most families have contributed at least one member to the Liberation Tigers of Tamil Eelam (LTTE). Thus, they fear, identification would only invite a pistol gang for summary justice. Surprisingly, lesser numbers have attempted to travel to Tamil Nadu.
One reason, no doubt, is the security forces capture of Vidattaltivu and the subsequent advance up to Vennerikulam, along the coast. A straight run earlier found refugees reaching the Tamil Nadu coast within barely two hours. But, a corridor still exists from north of Vidattaltivu, in the areas around Devil's Point. Only a few families have used it to travel as refugees. In a strange case, one family including children who were in Tamil Nadu made an attempt to return in a boat. Only their bloated bodies were found in a guerrilla dominated part of the western coast.
There appeared to be reluctance on the part of the IDPs to rush to southern India, in marked contrast to previous phases of the war. Many had little choice but to move into guerrilla-dominated eastern Wanni. That is not to say all of them were being driven there out of choice. Many were exasperated with the Liberation Tigers of Tamil Eelam (LTTE) for bringing them misery and forcing them to lose their worldly belongings - a moderate house, their goods and peaceful life.
More importantly, the meagre food they had saved was used up or lost. Some had sack loads of paddy. They were not milled. They could not carry them to the make shift homes they were moving into.
Last week, the World Food Programme (WFP) distributed food items. An official said it could last until the end of this week. They were mainly flour, sugar, lentils, milk powder and kerosene. The requests for supplies are made from the Government Agents of Mannar, Kilinochchi and Mullaitivu and have to be approved by the Commissioner General of Essential Services (CGES). This is supplemented by stocks taken by WFP. Some international agencies complain that all the stocks reaching the three districts were inadequate. There was shortfall between quantities needed and those supplied. However, Government officials deny the charge.
In this regard, articulating the Government's position was parliamentarian Basil Rajapaksa, Senior Advisor to the President. Colombo based diplomats, particularly from countries that provided food aid as well as those from the UN, were told by him that the Government had an elaborate plan to ensure the civilian population would receive their food supplies. He went a step further to tell some UN, INGO (International Non Governmental Organisations) and NGOs that they could even urge their local staff to assist Government officials in the Wanni in distributing food stocks.
Nevertheless, the crisis is not over. Some of the Colombo based diplomats who represent food donors were reluctant to hand over their stocks to the Government to distribute them to civilians in the war torn north. "The food stocks are coming from our Governments and it is our primary responsibility to make sure they reach the deserving people. This is why we carried out this task through international agencies," one of them who spoke on grounds of anonymity told The Sunday Times. Government officials say they are not dependent on food donors to ensure civilians in the Wanni are fed. They say that like in the south the Government has its own distribution mechanism in the north. They will utilise such mechanisms through Government Agents for this purpose.
Yet, some of the Colombo based diplomats are not happy about the move and express fears over a humanitarian crisis. This is based on the argument that amidst heavy fighting in Kilinochchi, food stocks may not reach a large slice of the IDPs in far corners south of Mullaitivu. All UN agencies operating in the Wanni, INGOs and NGOs have now pulled out. The UN Office said on Monday "we re-iterate that we have been compelled to temporarily relocate from Kilinochchi because of our security assessment that the situation has become too dangerous to remain working from there at this time." This assertion meant that they were not merely heeding a Government call to immediately withdraw from the area, but were also confirming that "the situation has become too dangerous to remain working."
Like the UN, other INGOs and NGOs had a problem in leaving the Wanni despite the Government order to vacate. The LTTE as well as civilian groups were physically obstructing them from leaving. Eventually, officials had to travel to Kilinochchi for talks with senior LTTE leaders. The UN confirmed this when their statement said they have "received assurances from the LTTE that UN and humanitarian staff remaining in Kilinochchi can leave." However, some of the INGOs and NGOs who had heavy earth-moving equipment and machinery had to leave them behind. Needless to say they would become handy for the LTTE to dig trenches and build bunkers.
Surprisingly, a few NGO representatives have chosen to remain there and have said they would face the consequences. The Ministry of Defence has a list of the names and the organisations. The Government is not averse to allowing them to use Vavuniya as their staging area. Some, like the UN will operate from there.
In this backdrop, Donor Co-Chairs (or aid donors) of Sri Lanka are meeting in New York next Wednesday (Sept. 24) triggering off some apprehension in Government circles that the meeting will wind up with some kind of censure against Sri Lanka. While many believe that the Co-Chairs will not seem to say something that may look as if its throwing a life-line to the LTTE in the midst of some heavy fighting, the fears are that the statement will refer to human rights abuses and the concerns expressed over civilians trapped in the fighting in the Wanni area. Both the United States and the European Union have pushed for this meeting. The donors are United States, Japan, the European Union and Norway. Norway's International Development and Environment Minister, Erik Solheim and Special Peace Envoy Jon Hanssen Baeur will also be at the meeting.
Whilst most New York based diplomats will represent their countries, Japan's special peace envoy, Yasushi Akashi is flying from Tokyo for the event. At a recent meeting where heads of Colombo-based missions were briefed at the Foreign Ministry, Japan's Ambassador Kyoshi Araki raised issue over distribution of food to civilians. Whilst in no way interfering with the ongoing military campaign against the LTTE, the envoy said, he was concerned about food supplies reaching civilians.
None other than President Mahinda Rajapaksa will explain his Government's position on both the war and matters relating to civilians. He left Colombo for New York on Friday to attend the United Nations General Assembly sessions. On the sidelines of this event attended by many heads of state and foreign ministers, President Rajapaksa is to meet with several leaders. One such meeting tomorrow will be with Erik Solheim. Though the Norwegian brokered Ceasefire Agreement of February 2002 was abrogated in January, this year, Norway remains as facilitator for the peace process.
This is the first meeting between President Rajapaksa and Erik Solheim since the Government's military campaign intensified. No great significance is being attributed to the meeting which is described as routine. It is likely that Rajapaksa will state his stance against the LTTE - that any future talks would only be if they lay down arms. He will make clear that military operations will continue. On the other hand, Solheim is expected to reiterate Norway's request for its peace envoy, Jon Hanssen Bauer, to visit Kilinochchi. Such previous requests did not meet with Government approval.
The ongoing military campaign also reflects a paradoxical irony. It is the Ceasefire Agreement of February 2002 that helped the LTTE to consolidate and defend the vast swathe of land in the Wanni. The troops have re-captured these stretches during operations over a year on the western flank of Wanni. On the stretches east of the A-9 highway, troops are still advancing towards guerrilla strongholds. On the opposite page Our Defence Correspondent deals with the latest developments in the offensives.
UNP: Tea, cloak and dagger politics
Meanwhile, while President Mahinda Rajapaksa was preparing to emplane to New York, Opposition UNP Leader Ranil Wickremasinghe was trudging it up Hulftsdorp Hill, summoned by the Contd. from page 4
Colombo District Court on a charge of Contempt of Court.
The petitioners were a former UNP MP Anura Bastian and another who are challenging the party's alliance with the breakaway SLFP group headed by former Minister Mangala Samaraweera saying the party did not approve the alliance. The accusation against Wickremasinghe is that he has filed a false affidavit in the case.
Wickremasinghe, dressed in his lawyer's garb went to his one-time familiar terrain, when he was a junior to leading Queen's Counsel H.W. Jayewardene, surrounded by party supporters among whom were several parliamentarians, and most significantly, those who were badgering him till last week on the need for intra-party democracy and party reforms.
Kurunegala MP Johnston Fernando, Ratnapura MP Thalata Atukorale, Gampaha MP Jayalath Jayawardene were in the forefront. Mahiyangana MP Lakshman Seneviratne the other vociferous member of the group had earlier called Wickremasinghe and excused himself as he was leaving for Australia, where his wife and family live.
Others present in a show of solidarity included Lakshman Kiriella, John Amaratunga, Ravi Karunanayake, Gamini Jayawickrama Perera, Renuka Herath, Sunethra Ranasinghe, Abdul Cader, M.E. Maharoof, Sagala Ratnayaka, Dayasiri Jayasekera, Dayan Karunathillake, and several lawyers as well.
It was Faiz Mustapha PC and Shanki Parathalingam PC instructed by Samararatna Associates who were appearing for Wickremasinghe. Ikram Mohamed PC with Thisath Wijegunawardene, brother-in-law of Non-Cabinet Minister Naveen Dissanayake instructed by Upala Fernando who were appearing against Wickremesinghe.
The legal arguments got off to a flyer with Mustapha asking on what basis of the law Wickremesinghe was being summoned to court, and insisted that he not even plead - guilty or not guilty - to the charges. In a confrontation with his opposing Counsel he said he was "barking, barking… not like a dog… but up the wrong tree".
The Judge reserved his order on the objections raised by Mustapha and reconvened court on October 30, and said that Wickremesinghe need not come to court unless requested to attend.
After the case was postponed, Wickremesinghe made most of his visit to Hulftsdorp by dropping in at the lawyers cafeteria where he had a Chinese roll and a cup of tea. Others also, like Rosy Senanayake, Ranga Bandara, Jayantha Katagoda etc., not knowing that the cafeteria is only for lawyers filled in and began ordering food and drink with the waiters happily obliging.
When it was time to pay for the food and beverages, the waiters looked to a lawyer to foot the bill, and it was Daya Pelpola who had to reach for his purse. The damage caused was in the region of Rs. 6,000/- and a young lawyer, Nissanka Nanayakkara chipped in to the beleaguered Pelpola with Rs. 2,000/-.
With that out of the way for the moment, Wickremesinghe proceeded to Anuradhapura, where an unusual incident had occurred. The UNP nominated a Government member for the post of Chairman of the newly elected North Central Povincial Cuncil against another nominee of the Government for the same post.
Lo and behold, the UNP's nominee, P.B. Dissanayake, a former Member of Parliament won the election for the post of Chairman against the candidate put forward by the Chief Minister Berty Premalal Dissanayake. It has been known for some time that there are under-currents against the Chief Minister from within his own camp, and somewhat orchestrated by Colombo.
While the incident has been seen as a set-back to Dissanayake, it also shows that at provincial level various games are being played among elected councillors. Several provincial councils are replete with cases of some of the most un-holy alliances and Chief Ministers having to keep looking over their shoulders at each given turn with conspiracies aplenty.
For Wickremeinghe, too, the conspiracies within his own party are not over despite him overcoming a weak threat to his leadership at the party's Working Committee last week. Few conspirators are still at work, trying to reach out to President Rajapaksa and some of the seventeen (17) UNP defectors of last year, trying to topple Wickremeinghe. The cloak and dagger stuff is still not over.