The moment one switches from a dial-up Internet connection to a broadband connection is possibly the only time where the Internet user is actually satisfied with the speed of their Internet connectivity. It's just 'one of those things.'
While there's often little you can do to improve the physical speed of the line entering your house, it's quite easy to make sure you are connected at the highest possible speed by following some simple guidelines which could substantially improve the throughput of most home ADSL connections.
You'd probably replace your modem, rewire the house and spend the country's measly defence budget on your ISP's technical support line before letting someone accuse the TV for your faltering broadband connection. But TVs are just one of the innocent-looking culprits that could have a catastrophic effect on your connection. Satellite set-top boxes, microwave ovens and even Christmas lights can put the brakes on your broadband. So how can you tell if your home electronics are murdering your bandwidth? It isn't easy, largely because the device with the leaky power supply will probably still be functioning perfectly normally. It's often a case of trial and error: Switching equipment on and off, one by one, until you find the one that's doing the damage to your connection. One handy tip is to tune an AM radio to 627KHz and listen for crackling when you turn the device on, as this is a sure sign of excessive electrical interference.
Placing the modem or router on an extension leaves it at the mercy of the internal wiring and, in the same way broadband speeds decrease significantly, the further your house is from the local telephone exchange, the same applies in your own home. If you must use an extension socket, make sure the wire stretches no further than 3m.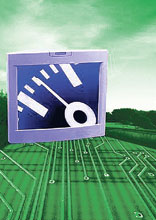 Usually, the enemy is within. The software you run is one of the common causes for broadband slowdown. The culprits all download in the background, whether they are malicious interlopers or programmes you've installed. Keep your computer system free from viruses and spyware and checking for background running programmes such as file sharing programmes. Peer-to-peer and other programmes that use up bandwidth can often be the cause of slower speeds.
Perhaps paradoxically, software is also a recommended solution for broadband speed problems. Some software gives you easy access to Windows settings that would otherwise require registry hacking, and some just add a cosmetic lustre to your speed. You could, for example, try adding a firefox extension called FasterFox, which makes better use of your bandwidth through pre-fetching and gives you easy access to many of the tweakable settings of your network connection.
If you have XP, try Unblocka. Input your upload and download speeds, which you can obtain from your ISP, and Unblocka 'tunes' your settings to improve speed. Last but not least, install a good adblocker to prevent adverts from downloading to reduce their bandwidth-sucking effect. How much of a difference can these measures make to your paltry Internet connection? Write in to technopage@gmail.com and let us know.
News box
Intel last week set a pair of new speed records for its Xeon 5000 processors ahead of the introduction of their eventual Core i7 successors. The update pushes the quad-core Xeon 5400 series from its previous 3.2GHz limit up to 3.4GHz with the new Xeon X5492; the new flagship also climbs up to the maximum 1.6GHz front side system bus speed. Intel characterizes the processor as intended for performance-driven, full size workstations and servers with a peak 150W of power. Other introductions trade speed for power savings. The X5470, drops to 3.33GHz and a slower 1.33GHz bus while using a more modest 120W of power; a single low-power L5430 entry is aimed at very small-profile desktops and servers and consumes just 50W at its 2.66GHz clock speed, or just a fraction of what a 2.66GHz Xeon processor consumed two years ago. One dual-core Xeon 5200 update has also been added and sees the X5270 set a new high of 3.5GHz with a 1.33GHz bus and 80W of power.
Towards the business end of the user interface, the Mozilla Foundation released the first prototype of 'Ubiquity' – mash-up software designed to enable ordinary users to paste data from multiple sources on the Internet together in a Web page or e-mail. It is the ultimate mash-up because it allows users to add live content such as Google Maps into an e-mail rather than relying on external links. "Ubiquity's interface goal is to enable the user to instruct the browser (by typing, speaking, using language) what they want to do," wrote Aza Ruskin, head of user experience at Mozilla Labs in a blog post announcing the software. Ruskin said Ubiquity is smart enough to understand the context of pronouns like "this" and "it" and whom the person is addressing in an e-mail. Currently, the commands are hardwired, like "map."
Eventually, Mozilla would like users to define their own commands and add complex ones, similar to macros and scripts in applications. That is likely to take some time. Ubiquity is only in its 0.1 state, making it a very early release with a long development cycle ahead of it. But judging by the responses to Ruskin's blog post, it is being very well received even in its most primitive state. Ubiquity is fairly Web 2.0-centric, with emphasis on inserting maps anywhere, using social network sites like Digg and Twitter, as well as searching Amazon, Google, Wikipedia, Yahoo and YouTube.