Puttlalam district farmers who have been severely affected by rampaging elephants say they may even have to give up farming, in the face of little or no state compensation or measures to minimise the man-elephant conflict.
"Elephants have destroyed our crops that cost us many months of hard labour. This is in addition to being in debt over the capital to plant these crops," lamented T. D. Ranbanda a farmer from the village of Mahauswewa in Anamaduwa.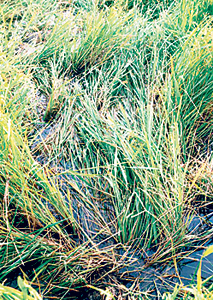 A destroyed crop
Over the years elephants have lost more than 10,000 hectares of their habitat in the Puttalam district alone, forcing them into villages. Farmers say in the past decade over 5000 hectares of farmland have been destroyed but no compensation scheme has been put in place during this period. The most badly hit farmers are from the villages of Navagaththegama, Anamaduwa and Karuwalagaswewa. Some have given up farming in these villages while others complain that authorities have done little to recultivate these destroyed crops.
In one incident more than 50 acres that were ripe for harvesting had become the target of elephants and the farmers had suffered a loss of about Rs three million. Sometimes on a single night the crops in an area as vast as one and a half acres are destroyed amounting to a loss of Rs. 75,000, farmers said.
Nalaka Abeysinhge said a herd of about 30 elephants had destroyed two and a half acres of ready to harvest cultivation causing a loss of about Rs. 400,000.
Meanwhile District Secretary Kingsley Fernando admitted there was no compensation scheme for farmers whose crops had been destroyed by rampaging jumbos adding that the Disaster Management Ministry had been informed about the gravity of the problem.
An Asst. Director of the WildLife Department said compensation was only paid in the case of the death of a farmer by an elephant, adding that some elephants had been driven away from these areas vulnerable to attacks.