KATHMANDU, Saturday (AFP) - Nepal, the world's newest republic, was set for more major change after the Maoist leader and former warlord Prachanda was declared prime minister and promised to deliver a left-wing revolution.
The charismatic leader -- whose nom-de-guerre means "the fierce one" -- was overwhelmingly elected as the impoverished country's most powerful man in a vote by lawmakers late Friday. His ascent from rebel to national leader cleared the way for his band of ultra-leftists, who feature on a US terrorist blacklist, to forge ahead with their vow to radically reform the country.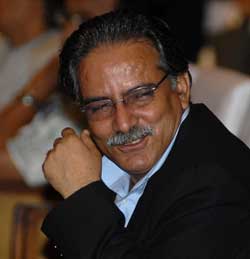 Prachanda seated at the Constituent Assembly Hall in Kathmandu on Friday, before the vote. AFP
Nepal has already undergone momentous change over the past two years which has seen the Maoists end a decade-long revolt, unpopular king Gyanendra sidelined and then sacked and the 240-year-old monarchy abolished.
The Maoist's number-two leader and top ideologue Baburam Bhattarai hailed a "golden dawn" -- and more historic change. "We feel that Nepal has found its hero. For any epoch-changing society, we need a hero," he said of Prachanda, a 53-year-old ex-school teacher.
"After Europe's capitalist revolution, Napoleon came along. To institutionalise socialism in Russia, Lenin appeared. In Nepal, to institutionalise the federal democratic republic after 10 years of People's War and mass popular movement, Prachanda is here.
"We have already finished destroying the roots of feudalism in Nepal. Under the leadership of Prachanda, the main agenda of the new administration will be nationalism, republicanism, economic and social transformation," he said.
Until 2003, there was only one photograph of Prachanda in public circulation, but as he began work as prime minister, his picture was splashed across the front page of every newspaper Saturday. He was profiled largely sympathetically with writers charting his progress from teacher to revolutionary and finally prime minister.
"New Nepal turns left, Prachanda turns PM," the Himalayan Times said in a banner headline. Naya Patrika (New Paper) went with "From the bunker to Baluwatar," referring to the prime minister's official residence.
In April, Prachanda steered his party to victory in elections for a new national assembly, set up as part of a peace deal to abolish the monarchy and write a new constitution. But as premier he will face major challenges, including urgently dealing with soaring food and fuel prices that have paralysed an economy struggling to recover from the civil war.
There is also the issue of integrating the 20,000-strong rebel army, currently confined to UN-monitored camps, into the national army. "The integration of the People's Liberation Army into the Nepal Army will see lots of arguments and counter-arguments. The way they deal with the army is very crucial," said Amit Dhakal, editor of the Kathmandu Post newspaper.
"The Maoists will try to bring in populist and radical economic reforms. But financially they will have lots of constraints." Prachanda, who was inspired by Chinese communist leader Mao Zedong and Peru's Shining Path guerrillas, has also had trouble shaking off his image as a ruthless warlord.
Critics say the ultra-leftists have yet to fully abandon violence and that their feared youth wing -- the Young Communist League -- must disband to prove they are committed to peaceful democracy.
The first test will be the formation of a government, a process already in motion with the Maoists required to share portfolios with the parties who backed them in the assembly vote for Prachanda.
"He is a communist hardliner, but now he has a responsibility to meet the standards of democratic principles," said top Nepali Congress party official Narhari Achayra.
"This is an acid test for him to prove his commitment to democracy."