June 23, 2008
Scientists have been asking the question for decades: Was there ever life on Mars? Now, thanks to the recent discovery of ice on the Red Planet, scientists find themselves one step closer to the answer.
Phoenix, a NASA craft that touched down on Mars on May 25, found evidence of ice while digging in two of Mars' northern trenches on June 15. Scientists debated whether or not the white substance exposed by the digging was actually ice. Some believed it was salt deposits. But on June 20, scientists confirmed that the white stuff was indeed frozen water.
Disappearing Act
The June 15 digging exposed what scientists believe to be part of an ice sheet as well as several dice-sized chunks of ice. It wasn't until June 19, when the dice-sized chunks disappeared into thin air, that scientists felt certain that they had found water. The pieces of exposed ice vaporized into Mars' thin atmosphere over the course of four days.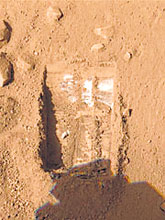 NASA's Phoenix Mars Lander's Surface Stereo Imager took this picture of the ice found two inches below Mars' surface.
"This tells us we've got water ice," said Mark Lemmon, lead scientist for Phoenix's Surface Stereo Imager camera. Lemmon explains that because the chunks vaporized, they could not be made up of salt or any other material. In addition, the ice pieces could not have been carbon dioxide ice, dry ice, because carbon dioxide cannot be in a stable state as a solid at such low temperatures. Scientists also ran tests to confirm these observations.
Life on Mars?
Water is an encouraging sign that there was life on Mars. But it is not enough. In addition to finding water, scientists will also need to find a lot of carbon before they can confidently declare that Mars may have supported life in the past. Carbon is a key chemical in the development of living cells.
Scientists hope that the ice will lead them to stronger evidence that Mars could have supported life. "The truth we're looking for is not just looking at ice. It is in finding out the minerals, chemicals and hopefully the organic materials associated with these discoveries," Phoenix Principal Investigator Peter Smith of the University of Arizona, Tucson, explains.
It is Phoenix's mission to gather soil samples and look for signs of the presence of water and other components of an environment that supports life. But the equipment on NASA's Phoenix can only perform tests to figure out if Mars ever had an environment mild enough for living organisms to survive. It will take a much more sophisticated spacecraft to determine whether there was, or is, actual life on Mars.
Time for Kids