It's nearing that time of the year again when I am going to get older by another year. It's become a pretty routine thing by now for me and I don't look forward to it I guess with the same enthusiasm I did when I was younger. But I also don't dread it and instead of thinking of all the gifts I am going to get, I look forward to the little surprises that the day has in store for me, courtesy of my family and friends.
Birthdays like all other things in life tend to mean different things to one at different stages in one's life. Going through photo albums it's nice to see all the colourful cakes, candles, knives wrapped in pretty ribbons, friends dressed in fancy gowns standing round and singing, "Happy birthday to you…" – a birthday at that age seemed incomplete without all these things.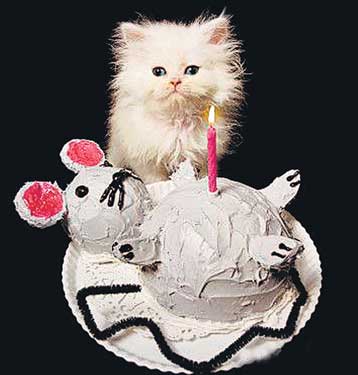 Personally, I think birthdays are the best when you are in your teens and early 20s and from then on, much of the novelty of it begins to wear off. I am now through with four decades of my life and probably on the verge of having a mid life crisis (an M-L-C) – actually I got a tattoo done recently and was quite disturbed to read an article a few days later which identified getting a tattoo as one of the signs of the condition. So this could mean I am already in the middle of an M-L-C because the odds of women having such conditions are far greater than men. But again it can't be that bad. After watching programmes like Desperate Housewives and Sex and the City, the future sure looks brighter.
When talking to my friends, I realised that many of them aren't exactly looking forward to another birthday, but it is a time when we look back at all the things we have done over the years and be grateful that our troubled teenage years have not made us total wrecks as our parents had feared at the time. (Actually I was a pretty tame teenager compared to most). Sometimes it seems like only yesterday we were saying things like, "I can't wait to turn 18 or 21," so that we could assert our independence more and be real adults. Now that we have long crossed that threshold, our lives have taken a more definitive shape, well at least where many of us are concerned. But there are also some of us who have only begun to find their way later in life and really it doesn't matter because people come of age at different stages in their lives and some of us want to do all the possible things when we are younger while some of us are better adept at phasing things out and taking on different things at different stages in our lives. As long as you are having fun along the journey and enjoying the ride, it's perfectly fine no matter which way you do things.
Going back, I think the most exciting birthday for me was my 25th one because three days after was my wedding day. (I'll tell you about that aspect of it next week).
Since then with the kids coming along, much of the concentration has been on their birthday celebrations, and deciding on what cake structure to get them, is not an easy task. I have pretty much exhausted all the possible characters to bake, from Winnie the Pooh to Spiderman to Batman, trains and cars, and now we try to settle for just a cake with no specific structure because deciding on one can be a hassle.
As I add another year to my life, what I can say is you are really only as old as you feel. (Everyone knows that, right). Basically when people reach adulthood, they are moulded into the kind of person they would become for the rest of their lives.
So if you are someone who keeps your feet firmly planted on the ground and a person who spreads a little happiness by being kind and considerate towards others, whatever your age maybe, I would say you are on your way to having a great life. Because birthdays will come and go, but the impact you can leave on other people's lives will remain. A good place to start would be by smiling more. And I'll say a "Happy Birthday to me!"