A cry for justice in the face of horror
Keith Noyahr, Associate Editor of the Nation, along with Editor Lalith Alahakoon and Chief Executive Officer of the Rivira Media Corportion Pvt Ltd. Chrishantha Cooray had just enjoyed a "Nan" feed at Queen's Restaurant at Kollupitiya on Thursday night. They had been discussing the second anniversary of the newspaper which they had celebrated on May 21.
Earlier in the day they had compiled an anniversary supplement for their Sunday edition. After spending about an hour at dinner they decided to leave for their respective homes around 9 p.m. Mr. Noyahr had offered to drop Mr. Alahakoon but he decided to go with Mr. Cooray. While driving to his home at Waidiya Road Dehiwala, Mr. Noyahr had called his wife Roshini to inquire about some household items and had dropped in at a supermarket to buy them.
On approaching his home, Mr. Noyahr had alighted from his vehicle to open the gate. He kept the engine running. As he got off the car he noticed a vehicle behind. When he approached it to check whether his car was obstructing its path, he was bundled into it.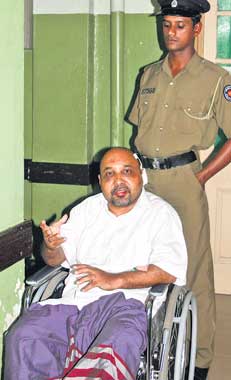 Mr. Noyahr being taken to the Dental Hospital last morning. Pic by Gemunu Wellage
Roshini who was awaiting her husband felt anxious that her husband was taking long to come since he gave the call. She walked up to the gate and panicked when she saw Keith's car with the engine still running but her husband not in it."I immediately realised something was wrong and feared that some harm might have come to him," Roshini said.
She had immediately called the Nation's Business Editor Gamini Abeywardena, who in turn had alerted the Editor Mr. Alahakoon, who initially thought it was a practical joke. But when Mr. Abeywardena insisted that it was serious Mr. Alahakoon immediately drove to Mr. Noyahr's residence in Dehiwala.
Mr. Alahakoon had attempted to contact President Mahinda Rajapaksa at Temple Trees and on being told that the President was attending a meeting had left three messages for him. Mr. Alahakoon, however, succeeded in contacting Defence Secretary Gotabhaya Rajapaksa and alerted him about the abduction. He was assured that road blocks would be set up and the IGP would be alerted. President Rajapaksa had contacted Mr. Alahakooon later.
Senior Police officers including the Colombo Crime Division (CCD) Director SP Anura Senanayaka, Superintendent of Police Mt. Lavinia Hemantha Adhikari were among those who turned up at the residence of Mr. Noyahr. Colleagues of Mr. Noyahr too had gathered there by then. Mr. Noyhar's friends were calling up all possible contacts with local and International media rights groups also being alerted. The Free Media Movement too alerted all press freedom organizations to intervene in the matter.
Hours ticked by while anxious family members, including Mr. Noyhar's son Mario (12) and Marissa (10), friends and colleagues waited for some news. Suddenly around 3. 30 a.m. they saw Mr. Noyhar limping towards the house. They were relieved but were horrified when they saw him barely walking towards them in blood-spattered clothes and a face all swollen.
Mr. Noyahr was immediately rushed to the National hospital with police escort. He is still suffering from shock to talk about what transpired during those horrible hours at the hands of his abductors. According to the Dehiwala police, one of the three teams carrying out inquiries into the incident, until Friday night Mr. Noyahr had not given a detailed statement on the abduction, but Mr. Alahakoon and Mr. Cooray strongly believe that it was the Defence Column compiled by Mr. Noyahr that had provoked the attack.
Mr. Alahakoon told The Sunday Times that as far as he was aware there had been no threats to Mr. Noyahr prior to this incident. However, he believed that the defence column that appeared on May 11 in The Nation written by a syndicate that included Mr. Noyahr would have been the cause for the abduction and eventual assault.
"Keith has worked with me for the past 22 years. He was in the pioneering team of The Sunday Times and he was the deputy editor of the Daily Mirror. He was a fair and impartial journalist. He never had any threats for the past so many years," Mr. Alahakoon said.
Meanwhile, Mr. Cooray said "according to Keith's close associates, the attack was seemingly due to his regular contribution to The Nation's weekly defence column published under the nom-de-plume Senpathi.
"Despite all evidence pointing to the contrary, we, at Rivira Media Corporation, remain hopeful that the authorities will seek to bring the perpetrators of this heinous act of terrorism to book. We recognise that while a strong campaign to bring Mr. Noyahr's abductors to justice is being waged, there are thousands in the very same plight, without voice and without hope," Mr. Cooray said in a statement.