Roshan's typewriter ticks no more
Hers was a familiar 'byline' to many generations of readers. Veteran journalist Roshan Peiris, a stalwart of The Observer and in later years of The Sunday Times who passed away on Tuesday had many scoops and 'exclusives' with leading political figures and celebrities to her credit.
Fondly remembered by her friends and colleagues on the newspaper for her indefatigable enthusiasm and dedication to her work, she was one of the old school who always met her deadlines. A warm and vibrant personality, Roshan was a 'senior' at The Sunday Times to whom many turned for her wide experience and wise counsel.
She worked for most of the 1990s at The Sunday Times until failing health saw her regretfully move away from her beloved typewriter. We say a sad 'goodbye' to a grand lady of journalism whom we were privileged to know. Published here is a tribute to Roshan by a friend and fellow Lake House colleague of yore Rajitha Weerakoon and one of Roshan's articles from The Sunday Times archives, about one of the many VVIPs she knew intimately during her professional career.
Pioneer woman-journalist Roshan Peiris departs
Roshan Peiris, a pioneer woman-journalist, departed from us last week. She was amongst a handful of women-journalists of the so called "Golden Age" of Lake House in the early 1950s who braved the citadel to work with the impregnable bastion of male journalists such as Tarzie Vittachchi, Denzil Peiris and Mervyn De Silva. It was a difficult task but Roshan, just as the rest of the determined and committed women-journalists at the time such as Ranji Handy, Jean Pinto, Vijitha Fernando, Malini Balasingham, Sumana Saparamadu, Hema Gunawardene and Mallika Wanigasundera, took them on and set trends of the highest order.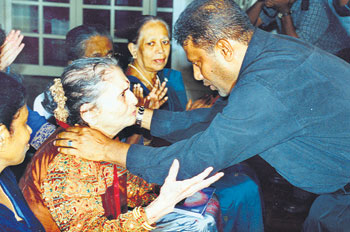 Then Secretary of th Editors' Guild of Sri Lanka and current chairman of Lake House Bandula Padma Kumara placing the gold medal on Roshan Peiris at the Guild's Awards ceremony
Hailing from a distinguised Parsee family - the Dadabhoys which had famous physicians and businessmen, Roshan, with a degree from the University of Ceylon joined Lake House in 1953 and took to journalsim like duck to water. She was a feature-writer and Women's Page Editress of the Observer when she married the legendary Observer Editor Denzil Peiris who was at the time editing the Janatha, the Silumina and Jana - an international Lake House magazine.
They had two children - Suren who is an Attorney-at-Law today and Savithri whose death Roshan refused to accept till the time of her death.
Roshan wrote on a range of topics - politics, arts, fashions, health, human interest stories as well as colour pieces on special events. She rose to be the Features Editor and later even acted for the Editor of the Sunday Observer in the mid 1970s, an opportunity which perhaps did not come in the way of other women-journalists at the time. Her career spanned for over four decades and Roshan was the pick when Sirimavo Bandaranaike wanted to 'grant' an interview to a journalist. Roshan interviewed at least two Prime Ministers of India including Indira Gandhi and many, many other international VVIPs.
Roshan was also awarded a medal for long service in journalism at the 2001 Editors' Guild Awards Ceremony. She spent her last years of journalism at The Sunday Times. If not for her poor health and the mental trauma of losing her daughter Roshan would have certainly continued with her writing right to the end.
Sirima rings in 76 around roses
They all came, the lowly and those from high society, old friends and not-so old friends, the pot-bellied and the lean, and stood silently four-deep in a queue to greet Sirimavo Bandaranaike on her 76th birthday on Friday.
Dressed in a plain orange saree with the pallu in bright red and yellow, with a matching red blouse and a thick orange coral chain around her neck, she greeted one and all and directed them to a lace-covered table in which stood refreshments, fruit juice and ice-coffee.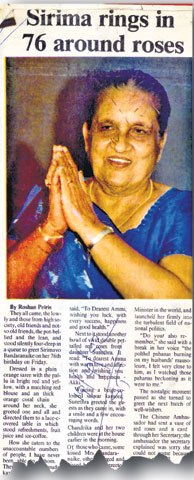 This article appeared in The Sunday Times of April 19, 1992
How she caters to the unaccountable numbers of people, I have never been able to fathom. There were the 'avurudu kavili', asme, kokis and kavun side by side with chocolate gateux, ribbon cake and a variety of short eats.
Standing by an antique oval table laden with roses of all hues, Mrs. Bandaranaike broke into a smile, she pointed out the deep red roses thoughtfully ordered by her son, Anura. "He is away in North Korea", she said. The beautifully painted card with a scene said, "To Dearest Ammi, wishing you luck, with every success, happiness and good health."
Next to it stood another bowl of vivid double pettalled red roses from daughter Sunethra. It read: "To dearest Amma with warm love and affection wishing you health and happiness – akki." Wearing a beige coloured salwar kameez, Sunethra greeted the guests as they came in, with a smile and a few encouraging words.
Chandrika and her two children were at the house earlier in the morning. Of those who came, some kissed Mrs. Bandaranaike, others hugged and kissed her, others greeted her in traditional styles with palms together and yet others went down on their knees as they offered her betel leaves, their eyes moist with emotion.
For a brief while, Mrs. Bandaranaike nostalgically recalled how we had met at Horagolla at 2 a.m. one day. "You remember that day, don't you? When the radio announced the victory of the SLFP in July 1960." It made her the first woman prime minister in the world and launched her firmly into the turbulent field of national politics.
"Do you also remember," she said, with a break in her voice, "the polthel pahanas burning on my husband's mausoleum, I felt very close to him, as I watched those pahanas beckoning as it were me." The nostalgic moment passed as she turned to greet the next batch of well wishers.
The Chinese Ambassador had sent a vase of red roses and a card through her secretary; the ambassador, the secretary explained was sorry she could not come because she was not well.
The jostling eager crowd kept coming and some blessed her saying, "may you live long to lead your party to victory and peace."
Sirimavo Bandaranaike has shown in her nearly thirty two years in politics that she can meet victory and adversity with equanimity as she celebrates her 76th birthday amidst friends, relatives and politicians and those many humble folk from the villages.