'Dhiriya Dhoni':Narrates the courage of a daughter
D. G. Somapala's latest tele direction 'Dhiriya Dhoni' (Daughter's Courage) revolving around a courageous daughter is now is being telecast at 9 pm on Swarnavahini channel.
Produced by Aruna Mendis and Ruwan Mendis, the thirty three episode teledrama is played by Wasanthi Chathurani, Himali Sayurangi, Amila Abeysekara, Kanchana Kodithuwakku, Udayanthi Kulathunga, Jeewani Nirupa Perera, Gihan Fernando, Kusum Renu, Upeksha Swarnamali, Nishshanka Diddeniya, Harsha Bulathsinghala, Renuka Mapalagama, Gnananga Gunawardane and Rupa Gomez. A blind singer and a musician, Sumangala Sandagala lives with her family in an isolated house in the hill country. Her elder daughter Sandali, an unemployed graduate is a determined person while Rashmika, the younger is carefree and easygoing.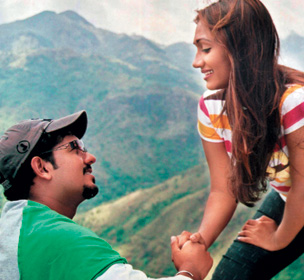 Priyankara, a young officer, attached to a social service organization, visits their house to make a study on the blind mother. Gathering information and compiling a report Priyankara becomes a close friend to them. As a result of this friendship Sandali is awarded a job in Priyankara's office. Sandali with her disciplined and courageous personality works even in most difficult areas. This gives a beginning to a new relationship between Sandali and Priyankara.
The younger son of the Sandagala family-Adeepa uses her mother's songs and melodies for financial gains to much of the annoyance of other family members. He starts 'rapping' valuable, artistic songs by his mother. Some people use Adeepa subtly to get songs of his mother. Due to this, the blind mother is also in a dilemma as to what she would do. Sandali is in conflict with her brother's behaviour. However, Rashmika has got used to a life free from responsibilities is duped by a person called Senarath and she conceives a child. Senarath secretary migrates and Rashmika dies in child-birth. Sandali takes charge of the parentless child and brings her up. This despite Priyankara's strong objection. Priyankara thinks that his girlfriend should not become a mother. But Sandali insists that she should bring up the child and she does not heed Priyankara's objections.
Meanwhile she also searches for the legal father of the child. Though she finds Senarath, he refuses to accept responsibility. Sandali files a case and proves that Senarath is the child's legitimate father. The next problem is to hand over the custody to the child's legitimate father. Sandali does not give up the child. Senarath proposes marriage to Sandali, requesting her to be the child's mother. Sandali does not give up Priyankara either. What would be the end of the triangular affair? Scripted by Somaweera Senanayake. The assistant director of 'Diriya Dhoni' is Sandim Rajanayake.
Camera by G. Nandasena, make up by Sanjaya Nipunarachcli, art director is Sampath Wanniarachchi and the editor is Jagath Weerathunga.