'Rosa Kele' creates an ideal world for children
'Samara' famed Sanjaya Nirmal's second cinematic venture 'Rosa Kele', a story woven around an orphanage and a kind hearted caretaker will be released on EAP circuit cinemas from May 15. The film introduces South Indian actress Monica Maruthiraj, two times Filmfare awarded actress to Sri Lankan cinema whilst Roshan Ranawaka plays opposite her. Twenty year old Maruthiral had been playing in cinema since the age of four.
Produced by Dhammika Siriwardena, 'Rosa Kele' comprises a massive child cast with nearly 30 children. Others in the stellar cast include Iranganie Serasinghe, Sanath Gunatillake, Nilanthi Wijesinghe, Chitra Warakagoda, Thanuja Dilhani, Anton Jude, Kumara Thirimadura, Sarath Kothalawela and Thuwan Fazal Buran.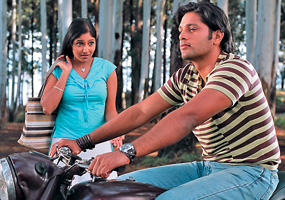 Monica Maruthiraj and Roshan Ranawaka in a scene from the film
According to director Nirmal, the film runs with the underlying message that it is only through love that children can be changed. Suriyabandara is a wealthy businessman descended from a high class up country background. He is a widower and lives with his mother Sybil and son Akalanka. In memory of his late wife he starts an orphanage and it is run by Theresha, a strict disciplinarian in her middle age. She thinks that discipline could be instilled in children only through punishment. Percy, the shrewd accountant in the orphanage, misuses and extorts money. The administration of these two have negative influence on the children and the discipline in the orphanage is badly affected.
Suriyabandara who realizes the ongoing changes decides to stop the orphanage. But Akalanka and his grandmother think the orphanage has to be continued somehow at least as a respect to Akalanka's dead mother. And they decide to recruit a new mistress and called for interviews. One qualification is that the applicant should be over 30 years of age.
A large number of prospective candidates who are in their middle ages come for the interview conducted by Suriyabandara and Theresa and Percy themselves. However there is a young applicant too. Nimsara a beautiful girl too has applied for the post. But initially her application is rejected by Theresa as she had mentioned her age as 31 in her bio data. Theresa concludes that it was a silly mistake and Nimsara is not experienced enough to be awarded the vacancy. But Nimsara manages to get the job and she proves that Theresa is wrong and that children could be transformed not by the cane them but by love and affection.
Sanjaya Nirmal who had directed a number of teledramas including 'Nonimi Yathra' and 'Rosaliya' entered cinema with 'Samara', a story about a sick child and her mother.
'Rosa Kele' is filmed in locations in and around Nuwara Eliya, Bandarawela, Balapitiya, Wennappuwa and Negombo. Screenplay written by Mahesh Rathsara Maddumarachchi, camera by Jayanath Gunawardena, make up by Indika Udara Lanka and art direction by Welagedara Ranasinghe. Costumes by Rozanne Diasz, melodies for the songs are by Rohana Weerasinghe, Bathiya and Santhus and Mahesh Dehipitiya and they are sung by Uresha Ravihari, Mahesh Dehipitiya and Amila Perera. Bathiya Jayakody directed the music score.