'Cinema is not a way to escape from reality'
Along with Bonjour Cinema, a film festival from the French speaking countries which concluded last month, there was a workshop on film criticism. This workshop was conducted by Jean Philippe Tessé, a journalist in 'Les Cahiers du Cinéma' (Notebooks on Cinema), a leading film magazine in France which took the lead in promoting the French New Wave.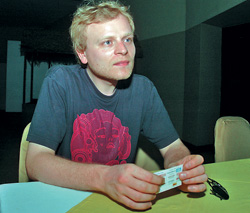 Jean Philippe Tessé
Born in Le Mans in 1977, Jean-Philippe Tessé is a member of the editorial department of Cahiers du cinema. He is the responsible person for the web site cinema column and the magazine Chronic'art. In addition he is the programmer for the Festival des 3 Continents in Nantes and the author of Le Burlesque - publication of Cahiers du cinéma.
During his visit, Jean-Philippe Tessé shared his view and the vision on film criticism an important area in the development of film industry.
TV Times: What is the role of a film critic?
Philippe Tessé: for me a film critic is someone who proposes the reader a vision of the film. Someone who acts like a go between. He is a go between the film and the viewer. He tries to build a point of view on the film. He also plays the role of a fighter; he fights for the film he likes.
TV Times: A success of a film depends on the commercial success or the commendation from the film critics?
Philippe Tessé: If you do a film with a big budget using bigger stars with good marketing and advertising it would become a box office hit. That depends on the economic power of the film. In France some films release 5000 copies but there are some films of which copies are done of only less than 1000. So financial success can be achieved by spending money but a discussion on a film could be created by making a genuinely good film.
TV Times: Do you think Hollywood is a threat to other individual and independent film industries in the world?
Philippe Tessé: I personally think that the Americans have some of the best films. It is not only at the present, but all the best films in the word were some of the American classic movies and films made in 1950s and 1960s in America.
TV Times: Would you say that the cinema is a form of entertainment?
Philippe Tessé: If the film would have been only a form of entertainment, cinema would not have come all this long. Like any other form of an art such as painting or music it is not only a form of an entertainment. Any form of art makes one feel better and entertainment is not to forget the reality. For me in cinema there will be a lot of pleasure and entertainment. But the viewer should be not be treated as a fool.
So I don't think cinema is only a form of entertainment. And it is a form of art that makes us feel better. It is something about us.
TVT: A film that takes you to a fantasy world or unrealistic setting?
Philippe Tessé: I am embarrassed when someone makes cinema to escape from reality. A good cinema is something that brings you out side and also something that would makes the world better.
TVT:Do you have any idea about Sri Lankan cinema?
Philippe Tessé:I have only seen two Sri Lankan films. One 'Mansion by the Lake' by Lester James Peries and 'Forsaken Land' by Vimukthi Jayasundara and the two films I like very much.
TVT: Do you have any idea about Asian cinema?
Philippe Tessé: I don't know much about Asian cinema. But I have seen some Bollywood films. And they are very funny and they are very exotic but I don't like them.