The ship has set sail
Though born to Italian parents in the rugby crazy City of Wellington, Raphael John Mollo (I suppose his parents did not know much about either Rugby Union or Cricket for that matter) took to his neighbourhood sports like any other kid. But, generally as first impressions go both those sports stuck on him and nearly after five decades he loves them the same as he did in the backdrops of Wellington in his childhood days. More than his words his eyes gave away his passion.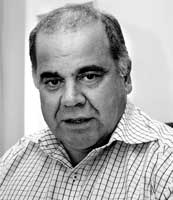 R.J. Mollo

At present sitting behind on that hot seat at Bata Shoe Company as its Managing Director he is on a mission resurrecting this giant which aids all forms of perambulation, but set back by a labour tsunami, at the same time also nurturing their company's pet subject of the Schoolboy Cricketer of the Year show which also struck a slight sandbank while on sail and was forced to change course.
R.J. Mollo explained to The Sunday Times in his own words – "In New Zealand sports get a lot on emphasis and almost every kid gets involved in some sport or the other. In New Zealand you get summer sport which is spring-summer season and the winter sport in which rugby – rugby union takes pride of place while some others indulge in soccer. However in summer the main sport is cricket. There was no difference from about the age of eight/nine. I played the game of cricket till I got to my latter school years and that's when I stopped. However later when I started working I played a little cricket in the Mercantile League which is like a business house competition. We watched through the years when New Zealand growing in the game of cricket with interest. Cricket has a great Interest for me and I have a passion for it".
While working for Bata Company Mollo moved to Australia and there he saw the game played on a bigger scale than in his home country -- he explained "In New Zealand you get 4-5 million people and in Australia there are 20 million people and the game has a bigger base there. At the same time Australia and New Zealand had this friendly rivalry and I always remained a New Zealand supporter".
Then we posed the question to him that we were waiting for -- "What were your pre-arrival notions about the Schoolboy Cricketer of the Year Contest, had you heard about it then"
Mollo answered almost immediately – "Absolutely. The Bata organisation is virtually world wide and at one point it ran in about seventy to eighty countries in the World and in the inter-company news letters we received about the highlights of activities in them, The Bata-Schoolboy Cricketer of the Year show took prominence where Sri Lanka was concerned. More so than that one of the previous company managers here about twenty years ago Geoff Lee – my one time boss in New Zealand, used to keep me informed about this programme every time he came back home holiday. So when I came here in February 2006 and that year at the Awards show I told in my speech that I knew about this programme even prior to my arrival in the island."
Then he also spoke about the setbacks. "Just prior to my arrival the company went through some problems – some industrial and other and the management at that time had curtailed some activities because of funding on advertising and publicity had dried. May be if I was here that may not have happened and in the first week that I was here I said in one of my speeches it's my wish that this show is going to go back to the grandeur it was because I knew how important it was to the company, the young cricketers and the publicity that we Bata Sri Lanka got with the rest of the Bata Organisation. Having said that it was that September that we had the show again at the BMICH a bigger scale and so if did know the history of the programme I wouldn't have made such an announcement."
Speaking about the present position of the programme the Bata Managing Director explained – "Being associated with The Sunday Times and especially the Wijeya group, we feel that we get a feedback of how it should be and to see the entry forms in your newspapers everyday and the trend's been really smooth I believe and it is going to be a show which would be as good as we see. We are better and bigger. We are pleased. I travel a lot and I have met people in the plane and when they ask what do you do in Sri Lanka and when I say I work for Bata – their instant reply is -- 'First to Bata and then to School' one of our strong advertising slogans and then they say 'Bata the sponsors of the Schoolboy Cricketer of the Year awards'. People know it is Bata who sponsors the Schoolboy Cricketer awards and it pleases us." This is how they know it. This is why we wanted to continue even after the setbacks that we faced in sponsoring the programme."
Finally speaking about the present and the future of the programme Mollo said "I think that we have taken one step further by recognising the International Schools and taking them into our fold from this year. The interest there has been good and so many schools have commented to us about how pleased they are to be associated with us. So along with the All Island and the Outstation Contests it's going to be better and we are going to do our best to make it even a larger event." Expanding on that comment Mollo said larger does not mean that you have to spend mega money. In this economic climate it is hard to keep on throwing money, but, there are certain ways that you can involve schools – you can go to the schools, we make cricket shoes, publicising the shoes is a part of the awards. For instance we can select some needy schools in the pre-season and may be sponsor their cricket shoes and shoes is our forte. Maybe with other equipment we may be able to help, but certainly we can take a step with the cricket shoes".