New Year is for all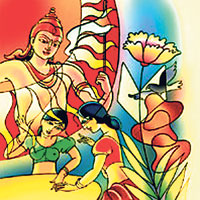 The April New Year
Dawns with the Sun Festival,
Pisces goes and Aries comes
Under the power of the Sun
Which looks equally on all beings
On our planet Earth,
Hence this can't be restricted
To a nation, caste or creed,
Though originated in the East
As Sinhala-Tamil New Year;
Now it's a "National New Year"
Celebrated by all ethnic groups;
The extended family gets together
Sharing food and gifts
And respecting elders;
There's no greater joy
Than a family getting together,
An inexpressible pleasure;
A whole nation dining
At the same auspicious moment
Is unique – how fine!
Blended with morals and values,
Custom and tradition
Must go on unbroken
For future generations,
Even in critical times,
Even on a low key,
Highlighting everyday talents,
Not risky contests or grand pageants,
Wasting time and money;
Different races get together
Dine and play together
Promoting ethnic unity –
What is most needed today!
On this auspicious day
Let us determine
To be energetic and constructive,
To unite as one Sri Lanka,
To lay the carpet for peace!
Lanka, Lanka, thou will never fail,
Thou will never fall!
May the April golden sun
Bring peace to our motherland soon!