In the land of the wigmen
Dr. Roger Rodrigue was born and spent his boyhood in Ceylon. He studied at Royal and Trinity in Kandy, where his mother Mrs. Doris Rodrigue (nee Siebel) taught at Dharmaraja for two decades. He qualified to enter the Medical Faculty in 1948 but migrated to Australia where he qualified as a medical doctor – and worked in Papua New Guinea for a few years.
Roger, his brother Bruno and their families still visit old friends in Sri Lanka. Their boyhood home was in Siebel Avenue, Kirillapona which is named after their maternal grandfather Lloyd Siebel who bought five acres of Rajawatte from the proceeds of selling his piano. We publish here extracts from his unpublished memoirs.
Grandfather Lloyd was a keen gardener. Rajawatte was a five acre property, most of it planted with coconut trees that provided a source of income, fuel and food. Around the house there were fruit trees of different types and the grandchildren enjoyed these. There was mango, jam fruit, jak fruit, guavas and sapodilla to name a few. There were a lot of flowering plants also. Water came from a well, pulled up with a line and bucket and when there was a water shortage a second well near the property entrance was used. Later, pumps and gravity feed with plumbing was installed. Wood from the coconut trees was used for building replacement of house rafters and the woven fronds used for roofing sheds that were used for extra storage.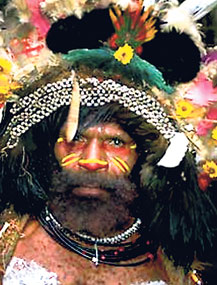 A Huli highlander with his colourful head gear
Overall the place was self-sufficient with a pig sty and cattle shed for milk. There was a small coffee plantation also. Light was with kerosene lamps that was later replaced with electricity. The property (boundary) had barbed wire fencing.
There were very few neighbours initially. A pineapple patch near the second entrance on the Nawala road always had snakes and lizards that were hunted by us. On the back hill were sapodillas and custard apples and cadju nut trees with nuts for harvesting. [Grandmother] Dora had servants who maintained the house cleaning, gardening and cooking and child care functions. With development came a big road that connected the High Level Road to the Nawala Road and this provided entrance to the old Rajawatte house.
In the Papuan Highlands
In 1958 after some brief instructions at the School of Pacific Administration in Sydney I went to Port Moresby in the then Territory of Papua New Guinea. Tari was my final destination and was a large and beautiful valley at an altitude of 6,000 feet in the southern highlands of Papua. I had met Medical Assistant Bert Speer who was previously posted to Tari (and built the first hospital there) when I was in Port Moresby, and he briefed me on its peoples and their customs. They were the Wigmen who adorned their heads with decorated wigs, made from human hair of their relatives both living and deceased, interwoven with their own hair. The wig was then adorned with dried everlasting flowers, possum fur and bird feathers (parrot and bird of paradise) and topped with a pom-pom of cassowary plumes. Decorative objects were also used, like the Australian lyre bird to add beauty. This included labels off canned foods and metal lids.
They were naked for the most part except for a sporran which was placed between the thighs to cover the genitals and this was held up by a number of cane and bark belts. The women wore less and had bare breasts and a few dracena leaves covering the pubic area. They walked with dignity and men respected their form of dress and did not joke or molest them.
Staff that assisted at the hospital were Papuans who had been trained on the coast. AteaveAphero came from Kerema and Gima from Hula on the Papuan coast. Two female staff were extraordinary in their abilities with female patients considering their minimal general education and training. One of them Kaume was a red-headed local Huli who was able to communicate with all women, reassure them and assist in the management of their care even though the patients were terrified by the hospital setting and the Western Medicine approach to care which included obstetrics care. The other was Rengal who was fluent in Huli and the Wabag language spoken in the adjoining valley.
The Papuan and New Guinea staff performed wonderfully well in this setting and maintained the functions of the hospital as best as they could. These included hospital administration records, security, privacy for patients, medical therapy and follow up and providing patient dietary and surgical services.
Tari was a 'newly controlled station' meaning that fighting between the various tribal groups was still common. This resulted in arrow and club injuries and, when the groups got involved, "wars" similar to those of the Middle Ages were not rare. In these situations the "Kiap"(District Officer) was called and the government officer took their teams of police and law officers to quell the fighting, directing attention to the wounded and then later would settle disputes that generated conflict.
As a Medical Officer I usually stayed on the Station and directed treatment once patients were brought into the hospital, carried in on improvised litters or vehicles, if available.
After a preliminary interview/examination by the "doctor boys" the patient was taken into an appropriate area and treated or else help was sought. The treatment consisted of simple dressings and wound cleaning, but for the more complicated cases help would be asked of the physician. Some suturing of clean wounds was done in a minor treatment area and if there was a major problem it was attended to after an assessment.
Sometimes major surgery was required and this was undertaken in the hospital operating room by me. Gima prepared the surgical instruments and set up the operating room. The autoclave was powered by a Primus stove. Gima also laid out the surgical instruments and was the surgical assistant who helped. Ateave or another Papuan generally administered the general ether anaesthetic after an induction with ethyl chloride. The suction apparatus was a pump, which was foot-operated to produce negative pressure. The system was functional and not dependent on electric power from generators. The lights were from a charged six volt battery which could be recharged and positioned. Overall the system worked without failure and permitted procedures like intestinal laceration repair and anastomosis, removal of abdominal cysts, setting of limb fractures and placement of chest tubes after removal of arrows.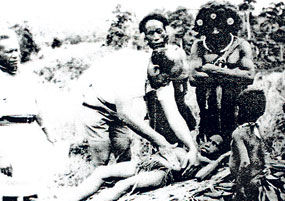 Dr. Rodrigue on patrol in Tari, Papua New Guinea in 1959
Recovery took place in a relatively clean area under the supervision of an attendant who charted the progress and complications if they developed. The system worked and the outcomes, considering all the risks, were good. We also had to stabilise patients for air transport to other hospitals if they could not be managed by our team, and these cases were flown into Goroka and Mendi, an approximately two hour flight at the most, after stabilisation with IV fluid if needed. Radio communication alerted the next hospital of the transfer and the plane was met on arrival.
In addition about a hundred in-patients had to be seen daily and their problems identified and treated. If they could not be managed in the out-patient area by the orderlies, they were seen by the doctor.
Established Aid Posts were managed by local people trained as Aid Post Orderlies who understood the culture and spoke the local language and were trained in basic care and diagnosis. These Aid Posts were scattered through the Sub District with one attendant for every 1000 of population and this was the first line of defence of help in the villages.
Population screening was also done by these orderlies for acute and chronic sickness and child care. Referral to the hospital or to those with more skills was the method used. Transportation was by stretcher and done by local village caretakers. Later, as vehicles were introduced and became available, they helped to carry the sick over a well-developed road system from the Aid Post to the Hospital – even though it was a rough ride.
In special circumstances if helicopters and planes were available, for other local projects, the District Office permitted use for an appropriate evacuation and transportation. My daughter Jacqui was born in Goroka in 1959 after my wife Pat was flown out for the delivery. The service was equally available for the local Huli and other Papuans.
I did several patrols in Tari with the Patrol Officers. I went to the Iumu, a region south of Tari on the Tagari River with Bill Crellin and Gerry Jenson-Muir the Assistant District Officers and spent a month there. The area was 'uncontrolled' so guards were posted each day around the camp. Arrows were previously fired at the camp but this time there was no problem. The Patrol Officer did census work and I attended to medical problems.