Avurudu cheer now drowned in tears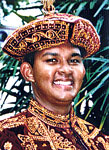 Chandana happy and smiling on his wedding day.
Chandana Rathnayake had prepared for the Sinhala and Tamil New Year by buying new clothes for his wife, children, mother and sisters. But although this year's auspicious colours are red and yellow what he had chosen to buy for all of them had ironically been in white. Little did he know that these white clothes would be needed not for the joyous celebration of Avurudu but for a tragic and shattering happening - his own funeral.
Chandana was one of the unfortunate victims of the bomb blast at Weliweriya on Sunday, April 6, that killed Minister Jeyaraj Fernandopulle and many others. A dynamic figure in the sports field, Chandana was invited to judge the marathon race which was to be held in Weliweriya that fateful day.
Sports instructor at Zahira College, Colombo, Chandana was just 34 years old. Hailing from Kandy, he was the eldest of three, with two younger sisters. His children (Shavindya, 6 and Dulindu, 4) take after him; his daughter is already an award-winning athlete at The College of World Education. Chandana's wife, Deepani, is a teacher at Mayadunna Vidyalaya, Hanwella.
His mother Sumana who is mourning the death of her only son reflects that it is the people who are needed most for the country that are taken. This is so true in Chandana's case as his family, and his neighbours will always remember him as one of the most helpful men they have known. "He was such a kind and helpful man; not only to us, but to the whole village. It was his habit, each morning, to dress, feed and prepare the children for school. Before he carried them to the school van, he would always feed a mouthful to his wife. This year too we were eagerly looking forward to celebrate avurudu with Chandana," she recalled adding that Chandana used to visit his hometown in Wattegama with his wife and two children every New Year.
Everybody's main concern now is what will happen to his wife and two children. "They were so dependent on him," his sister Padma Kumari says. "He is the one who looked after us when we were children, and even until his death. In the same way he looked after his wife and children. What will happen to these fatherless children now?" she laments.
| | |
| --- | --- |
| | |
| The trophies of a sports instructor at Zahira College. | Chandana: Laid to rest |
His son Dulindu is too young to understand anything that has happened while Shavindya realizes that something unusual is happening at home, with people visiting them and that her mother is upset, but does not know why. She tells her grandmother that "Appachchi must be angry with us, because he won't speak to us."
Deepani's mother talks about how Chandana insisted that she should come and spend some time with their family last week. She had refused the invitation at first but finally consented because he was adamant. Tears fill her eyes as she recalls the last cup of milk she made for him, and the last words he uttered as he left home on Saturday night saying "look after my wife and children for me."
According to his sister-in-law, Thilani Meewalarachchi who lives close by, there had been confusion on the day of the blast. Although they heard about the blast and knew he was at the marathon event, they did not know for some time that he had been caught in the blast. "He had two mobile numbers, so we tried to contact him but couldn't get through," she explained. Her instincts told her that Chandana might have been injured but she never thought he would have died. When they failed to contact him Deepani travelled to Gampaha hospital to find out what had happened. Everything after that was a haze.
Today Deepani lies sprawled on a plastic chair in the home Chandana and she had built for themselves, unable to bear the grief.