High prices herald low-key celebrations
Soaring consumer goods prices have forced many families to tone down their traditional Avurudu celebrations and limit their New Year observances to the essentials. Census and Statistics Department figures show that the prices of some consumer goods had increased by as much as 75 percent since April last year. Coconut oil and rice, the two main ingredients used in the preparation of traditional New Year foods, had increased in price by more than 100 percent since April 2007.
Samba rice, commonly used to cook kiribath, the main dish on the Avurudu table, has increased in price by 102 percent since April 2007, according to the Open Market Weekly Average Retail Prices chart. The price of coconuts has increased by 99.6 percent and coconut oil by 114.1 percent in the same period.
Speaking to a cross-section of people out shopping for the New Year, The Sunday Times found that most families were resigned to a subdued season because of rising prices. Mary Perera of Orugodawatta, who was choosing a shirt for her infant son in the Pettah market, complained that steadily rising prices of essential items, including clothes, had forced her family to curtail their celebrations.
"The prices are very high, compared with last year," she said. "This year we can barely afford to make the traditional foods." Another shopper, Nilmini Balasuriya, of Wellampitiya, said festivities this year would be low-key for her family and her friends.
Meanwhile, the business community is feeling the pinch, with sales dropping to record low levels. The Pettah market, usually bustling with shoppers at this time of year, has been relatively quiet in the lead-up to the Avurudu. Sales staff in shops and street vendors sat around waiting for customers. They said a combination of factors had taken the shine off this year's Avurudu business: the rising cost of living, security concerns, and unfavourable weather conditions. Some businessmen said this had been their worst year in more than two decades.
M. Ashok, owner of Chandra Stores, a wholesale rice store in the Pettah, said this was normally one of the busiest times of the year, but this year there was hardly any business. "In previous years, we were so busy we would hardly have time for lunch. This year all we do is sit around waiting for customers."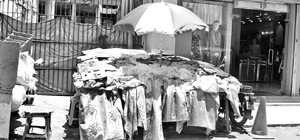 The Pettah market, usually bustling with shoppers at this time of year, has been relatively quiet
M. Favaz, who has been a street vendor in the Pettah market for more than 15 years, said he would normally make around 15,000 to 20,000 rupees during the season, but this year, on the eve of the Avurudu, he had hardly 5,000 rupees in his pocket.
Abdul Maheed, another street vendor, said many of his colleagues were heavily in debt because of the prevailing market conditions. "Our costs come to about 30,000 rupees a month, but lately we've been making only about 5,000 to 10,000 rupees. In past years, our stocks were over by about the 9th or 10th of April; this year we haven't sold even half of our stock."
Abdul Safraz, a three-wheel taxi-driver based in the Pettah, said he usually makes about 3,000 to 3,500 a day at this time of year, but this year his takings had dropped to an average 500 rupees a day, or less.
Dr. R. M K. Ratnayake, secretary to the Ministry of Trade, Marketing Development, Co-operatives and Consumer Services, said Sri Lanka had an open economy and retailers were free to sell goods at whatever the prices they chose. But he gave an assurance that consumer commodities, especially rice, would go down in price after the National New Year season.