Jeyaraj in his last race
He was felled by a suicide bomber while standing among the people he loved
Senior Minister and Chief Government Whip Jeyaraj Fernandopulle who was killed on Sunday in a suicide bomb attack had spent the last moments before his death by sharing a meal of Kadala and discussing plans to develop some of the Buddhist temples in the area.
Kanduboda Vivekaramaya Chief Incumbent the Venerable Alubowila Dharmarathana Tissa Thera who met Mr. Fernandopulle a few hours before his death told The Sunday Times the Minister paid him a surprise visit as the scheduled start of the marathon had been delayed.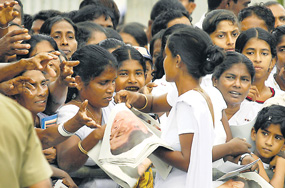 People clamouring to obtain a poster of slain senior Minister Jeyaraj Fernandopulle
"It was around 6.50 in the morning, I was having breakfast and the Minister showed up at my door with about 40 others. He loved Kadala, so I immediately had some of it prepared for him and his entourage," the monk said.
The Minister was his usual self, but on this occasion had spoken a lot more than he usually did, Ven. Dharmarathana said adding that he was seldom late for any event preferring always to be punctual."Haamuduruwane, I was asked to be there at 6.30 am, but nothing is ready. I couldn't stay on the road so I came here," the Minister had told the monk.
He recalled Mr. Fernandopulle saying that he was keen on attending the marathon as his good friend Karu (veteran marathon runner Deshabandu K.A. Karunaratne) had requested the Minister's presence. However, as there was time, he asked Ven. Dharmarathana to accompany him to another temple nearby to visit its chief monk who was sick. The Thera obliged and they all left to visit the ailing monk. But the group was forced to cut short the visit as the marathon was about to begin. The Minister then dropped Ven. Dharmarathana Thera back at the Kanduboda Temple and took off with a, "Api yannang, haamuduruwane".
He was a personal friend of the Kanduboda monk and had helped him and his Aramaya on numerous occasions."He built a dragon pandal (makara thorana) on my birthday. He also gifted me a motorcar worth rupees 60 lakhs. Once he sent me to Tokyo and once accompanied me to Australia," Ven. Dharmarathana said.
Minister Fernandopulle, although a Catholic himself, has done a lot for the Buddha Sasana, the Thera said."He built two temples in the vicinity, the Jeyaraj Fernandopulle Dhamsak Vehera in Henegama and the Jaya Sudharshana Ramaya in Katana named after his wife," the monk said.
He described how the Minister expressed his desire to visit the temple in Henegama after the marathon, but sadly though this wish could not be fulfilled.
"He was a man with profound qualities; He was a better Buddhist than most other Buddhists. The fact that he built roads to all the temples alone is testament enough. We will never get another Minister like him for another 500 years," Ven. Dharmarathana said with tears in his eyes.