Jail or fine if you neglect elders
Ill-treating or exploiting of elders is to be banned by law in a bid to curb the increase of abuse of senior citizens. Social Services Ministry Secretary V. Jegarasasingham, who is also chairperson of the National Council for Elders, said the amendments to the existing Protection of the Rights of Elders Act of 2000 would be introduced soon to offer further protection for people above the age of 65.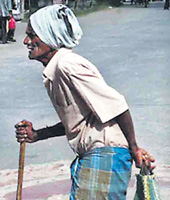 An elderly Sri Lankan: Look after him
In terms of the new amendments, any person found guilty of an offence would be liable to a fine of Rs. 100,000 or a jail term of one year or both. According to the proposed amendments no person would be allowed to willfully neglect, abuse or ill-treat an elder as it would be an offence and action could be taken, the secretary said.
"There is a rapid increase of the number of elders in Sri Lanka but the so-called nuclear family concept instead of the traditional extended family tradition has encouraged negligence and abuse. There is a need to enact laws to eliminate the abuse and neglect of the elders," she said.
According to latest figures, there are about 167 elders' homes functioning now and around 10,000 inmates are living in them. Figures also show that the number of elders in Sri Lanka will reach ten percent soon – that is two million of the 20 million population.
According to a report last week, homicide and suicides among the elderly has been on the increase in Sri Lanka while abuse has caused depression and distress among them.