Life in Jaffna: The seen and the unseen, the told and the untold
When we visited Jaffna town last week, it appeared to be buzzing with life. People were attending to their New Year shopping while Tamil music blared in the background--probably from the shops that were being decorated for the festivities. Buses were plying and young girls were cycling to temple even as dusk fell.
These are scenes that were rarely seen in the recent past. However, people still live in fear, although the government claims that troops have successfully eliminated rebels operating in the town area, ushering a sense of freedom for the people.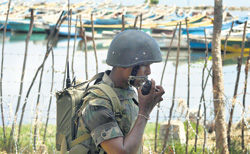 Boats moored at Gurunagar
A shopkeeper, who spoke on grounds of anonymity, said he and his family lived in constant fear in spite of the air of normality."Things are normal compared to what it was. But some paramilitary groups still demand money from us. We have no choice but to give into their demands or else we would be abducted or killed. A few months ago a man who had not paid to a certain group, went missing the next day. We don't complain to the authorities since they do little about it anyway.
Although Jaffna peninsula was liberated during the December 1995 Operation Riviresa (Sun Rays), LTTE cells continued to operate in the region. It is argued that the 2002 Ceasefire Agreement gave the LTTE the opportunity to capitalize on the situation, by forcibly recruiting people, conscripting child soldiers, attacking government troops and organizing agitation campaigns that crippled the region.
In the past few months the government has been claiming that troops had successfully eliminated many LTTE cells. But the ground situation tells another story. We were escorted amidst tight security in convoys of BTR armoured personnel carriers, even to the Jaffna town, which has been proclaimed safe by the government.
In spite of government propaganda, Jaffna Security Forces commander Major General G.A Chandrasiri conceded that there were about 1000 to 1500 LTTE cadres still within the peninsula."We have managed to bring the situation under control. People in Jaffna have started rebuilding their lives. We are in the process of clearing the region of the LTTE that has caused hardship to the people. We kill about 10-15 LTTE cadres, daily. Normality has returned to the region," he said.
But still the people have many woes, especially the consumers. While some traders say they are losing out on business others say they are even making profits. A merchant Arun Jayakumar said the prices of goods in Jaffna has sky rocketed due to the closure of the A-9 road and the high cost of sea transport.
"People can no longer afford not to work even for one day. They have hardly any money, so they buy just a few essential items," he complained. While the price of a kilo of rice at Rs. 90 and a coconut at Rs. 50 were similar to the going prices in the South now, sugar was an exorbitant Rs. 140, followed closely by dhal at Rs. 130 and flour at Rs. 120.
With fuel rationed, black market sales were thriving openly in the market. A bottle of kerosene oil sold at Rs. 200, while petrol was sold at Rs. 300."We have no choice but to sell essential items at high prices. We have to fight against the shortage of supplies," a black market vendor said.
Mohamed Raufi who is from Kathankudi, Batticaloa says he has started doing business in Jaffna as it was profitable."In spite of the A 9 being closed I make a good profit. I buy material from Colombo and bring it here by ship. Sometimes of course I don't make any money at all," he said.
However, S. Kandaiyah, a clothes shop owner said he was losing out on business. He said he is compelled to sell his goods at a high price because transport costs were high. However he lamented people were not buying clothes.
"I have three schooling children and a mother who is sick. I don't know how I will survive the next few weeks if I don't get customers. People just don't buy clothes or material anymore. If this trend continues I will have to close my shop," he said.
On visiting a fishing village, Gurunagar, we noticed there were no fishermen although boats had been moored. A senior military official explaining the situation said this was because fishermen avoided the scorching afternoon sun. He also added that fishing was done on a low key because the LTTE was firing artillery and mortar into the village from a locality identified as Kalmunai point (K-point). However, residents said it was the heavy security restrictions on fishermen that had virtually crippled the industry.
The health sector in the peninsula is also facing a crisis with there being more than 1300,vacancies for nearly 86 hospitals and dispensaries.
Muhamalai: A view from the FDL
We are at the frontlines of Muhamalai, a deep rumbling sound of a blast is heard from the army Forward Defence Line (FDL). Seconds later thick black smoke rises into the air."Sir do we retaliate," a captain asks his commanding officer, a Lt. Colonel.
In a casual tone he says, "They must have learnt about the movement of armoured vehicles. They don't usually attack in the afternoons, other than a bit of sporadic fire and maybe a few mortars falling in front of our FDL." This time what we heard, we are told is a mortar fired from the FDL lines of the LTTE to the FDL lines of the Army. This is followed by sounds of some sporadic gun fire that dies down within minutes.
We are asked to put on body armour and helmets before approaching the bunkers on the Army FDLs and are warned that LTTE snipers are scanning the area to target soldiers guarding the FDL. Later the Army shells the LTTE side of the FDL, a routine afternoon operation we are told.
"The stretch between the Forward Defence Line of the armed forces in Muhamalai and that of the LTTE, designated as no-man's land has been successfully infiltrated by the military. Our special units have reached the edge of the perimeter beyond which the LTTE stronghold lies," Division-55 Commander, Brigadier Kamal Guneratne says.
He says their movements are being hampered by anti personnel mines, improvised explosive devices strung together to form a high-impact cluster bomb and booby traps. Later we hear at the Jaffna Security Forces headquarters, that a soldier who had been part of the operation in the frontlines of Muhamalai, when we visited the area, had lost a leg to an improvised explosive device.