Weerawansa moots new front
JVP leader Somawansa Amerasinghe alleges Govt. backing dissident group
The Janatha Vimukthi Peramuna (JVP) dissident faction led by its parliamentary group chief, Wimal Weerawansa, has mooted the formation of a Deshapremi Peramuna (Patriotic Front) and pledged to work under that banner. They have vowed to take this action if their disputes with the party leadership are not amicably settled.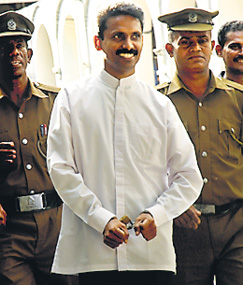 JVP MP Jayantha Weerasekera being led from court on Friday.
The decision by Mr. Weerawansa and ten dissident MPs to form such a front, with the backing of a number of civil society organisations and trade unions was taken at a meeting the dissident group held on Thursday at the Patriotic National Front office in Borella.
Political observers point out that the fact that like the PNM, the new political group also is being formed with a similar name suggests a link between the two. This development came as the crisis within the JVP worsened. Police have begun investigations into several incidents involving the forcible removal of vehicles belonging to JVP dissident MPs with one JVP MP and another JVP cadre being remanded.
The JVP's Trincomalee district MP Jayantha Wijesekera who had allegedly gone into the Parliament car park along with another man on Wednesday afternoon, and removed two vehicles belonging to two JVP dissident MPs, surrendered to the Police on Friday.
They were produced before the Colombo Chief Magistrate and remanded till April 17. Mr. Wijesekera and his accomplice had allegedly manhandled the Police sergeant on duty at the MPs' car park and had gone off with the double cab belonging to MP Piyasiri Wijenaike and the van belonging to MP Achala Jagoda.
Both Mr. Wijenaike and Mr. Jagoda had come out in support of Mr. Weerawansa. In a related development, the publication of the JVP-backed Sinhala weekly newspaper, "Lanka" will be stopped after its issue today. The newspaper functioned under the direct supervision of Mr. Weerawansa since its inception, a party source said.
Instead, a newspaper titled 'Rivida' is to be published by Mr. Weerawansa and his dissident supporters shortly. The move by JVP dissidents came as it became clear Mr. Weerawansa may be sacked from the Party after a disciplinary inquiry. This is after May 10 when a decision by the Central Committee to suspend him takes effect.
Mr. Weerawansa told the dissident MPs that the new front, when formed, would not support either the Government or the opposition parties. However, JVP leader Somawansa Amerasinghe told The Sunday Times in an interview that the Government was helping Mr. Weerawansa and his group and they were in turn helping the Government.