Making Avurudu memories
Greetings yet again, folks, and yes, Subha Aluth Avuruddak Wewa! Puththandu Nal Valthukkal! Ok, right now you are probably dressed in your brand new Avurudu attire and are just about to stuff yourself with Kewum, Kokis, Aasmi and what not; all those simply delicious sweets that you just cannot resist. (Do be aware, though, that the sweet stuff is oily, extra sugary and certainly not for those on a diet). But do go easy – leave some room to stuff yourself further when you visit your relatives. You know, those auntie and uncle types who guffaw at your parent's unfunniest remark and exclaim with unflattering disbelief just how much you have changed over the year and you simply sit and nod, thankful for the food on the table and the pocket money you know you're going to be rewarded with.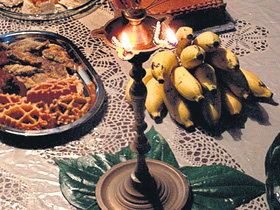 Ah…meet-the-relatives. What a gruelling process. Some of them you meet after eons and they go "So how are O/Ls going?" and you go, "Huh?" and they're surprised to hear that you're actually working – or in some cases surprised to hear someone actually employed you. However this scenario does not apply if you're still schooling. In fact, it's a lot worse when you're schooling because all they ever seem to care about is how badly you've been doing at your studies. Isn't it enough that your parents have grounded you for the rest of your life? Why do you they have to rub it in?
Some relatives seem to think you don't know them or know how you are related. So they take great pains to sit and explain things to you, as slowly as possible. Thus begin the history lessons taking you all the way back to the Stone Age when your ancestors were making unintelligible grunting noises in a cave strangling each other over the food.
And then there's the worshipping all round. They just love it; it makes them feel important and respected. We have nothing against showing respect to your adults, but let's face it, how many of us are actually close to the million relatives that tradition forces us to bend over for? Ask yourself honestly if you feel the same kind of love and respect you feel for your immediate family members when you go down on your knees to someone, although related, is, essentially, a complete stranger?
Some families throw up major get-togethers to celebrate the Sinhala and Tamil New Year meeting up at their ancestral homes and have a gay ol' time. They eat, drink, sing and dance and finally pat themselves in the back for a job well done. Admirable, indeed, but how long will it take before they stop patting each other's backs and start stabbing them instead? Ah but not to worry; there's always next year to patch things up, right?
Because that's what Avurudu is all about. It's about forgiveness. Well at least that's what we think it should be, just like Christmas. Two days later, we're back to where we started – at each other's throat. And the fun continues…
Have a nice day, folks! (And, no, we're Not cynics).