Uniting the youth
The arts being one of the best mediums to unite individuals from various backgrounds, an event held in the hills, did just that! Hantanen ena Pawanak was a CD launch and new songs program held at the University of Peradeniya on March 26, 2008. Held at the E.O.E Pereira theatre of the University, the program was put together by a few creative students and staff members.
The first time that such a CD where the lyrics, music and vocals all came from the University, was launched, the event was sponsored by IRQUE/IBG project of the University of Peradeniya and organized by Tharindu Weerasinghe, who is a temporary academic staff member of the Faculty.of Engineering, University of Peradeniya, Manoj Alawathukotuwa, lecturer at the Department of Fine Arts, University of Peradeniya, and their colleagues. The organisers were from a cross section of the University, coming from the Arts, Engineering, Medical and Science Faculties, and contributing to the event especially with singing and melody composing.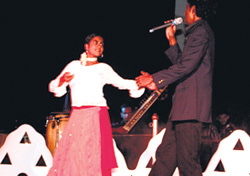 The event was the brainchild of Tharindu, and was hugely supported by the sponsors and Mr. Alawathukotuwa. "This is a good example for all campus students to live in peace and harmony with students from other faculties, through the Arts and aesthetic talents. I wanted to emphasize that people from Peradeniya (both students and staff) are capable of creating good things and they can join together in harmony and peace!"
He also went onto elaborate that the real message he wanted to convey via the show was the fact that students can work together to achieve a real goal. "I also wanted to emphasise that staff members can accompany and guide them to do good things. Hantanen Ena Pawanak is a little example for that. The combination of different people from different Faculties, performing one song in the show, portrayed this fact very clearly."
The chief guests at the event were Buddhadasa Galappatty and Anoma Rajakaruna, while the guest of honour was the Vice Chancellor of the University of Peradeniya, Prof. Harischandra Abegunawardhana. Deputy vice chancellor Prof. Anura Wickramasinghe, many senior lecturers and students from various faculties were also present.
A good step to motivate campus students to do their own creations as well as cultivate peace and harmony among the different Faculties, Hantanen ena Pawanak could be described as a successful initiative by students, for students.