Thumbs up
Charlie Wilson's War
Starring: Tom Hanks, Julia Roberts, Phillip Seymour Hoffman
Directed by: Mike Nicolls
It doesn't happen very often, but occasionally one man can make a difference – a big difference. George Crile's 2003 best seller, Charlie Wilson's War, is a fascinating and eye-opening account of the most unlikely "difference maker" imaginable. A relatively obscure Congressman from the Second District of Texas, "Good Time Charlie" was known more for his libertine lifestyle than his libertarian legislation. Likable and licentious (even for a politician), Charlie Wilson served his constituency well since the good folks of Lufkin only really wanted two things, their guns and to be left alone. It's Easy Street replete with his bevy of beltway beauties known, appropriately enough, as Charlie's Angels.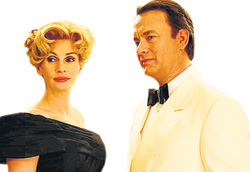 This is Mike Nichols in his finest form. I was not a fan of Closer, so it's refreshing to see him again right back on top with this comedy set in the darkest of circumstances. Just one slip in tone could have wrecked this compelling picture but Nichols and his very strong A-list cast never put a foot wrong in this biopic of a deeply flawed but utterly compelling Congressman.
But even the most rakish rapscallion has a conscience lurking somewhere underneath, and for Charlie Wilson the unimaginable atrocities being committed in Afghanistan moved him to muster his entire political savvy toward funding the utter, humiliating defeat of the Russian military and, possibly, to even help hasten the end of the Cold War as a result. Fat chance, huh?
The on-screen "Team," is composed of three marvelous actors with fourAcademy Awards and nine nominations between them. Charlie is beautifully portrayed by Tom Hanks in a solid, slightly understated fashion that is among his best work in years. He's aided, abetted and abedded by Joanne Herring, a wealthy Houston socialite played by the still-slinky Julia Roberts.
By all accounts Ms. Roberts looks good and holds her own, but the screenplay never gives us even a hint why Kabul and country is so important to her character. Maybe the two Afghan hounds usually by her side know – but we as an audience never do. As for the third member of the "Team," Philip Seymour Hoffman steals every scene he appears in as Gust Aurakotos, a smart, street-wise (i.e. non Ivy League graduate) CIA malcontent who knows the score – both in the Agency's boardroom and in Wilson's bedroom (he earned a Oscar nomination for this portrayal and I must say it was well worth it!)
For the Mujahideen to succeed, the most important assistance the U.S. can provide is the ability to shoot down the dreaded MI-21 helicopter gunships which rule the skies. This takes money, lots of money, and eventually "Charlie's Team" covertly coerces those in Congress to fund the effort to the tune of $1 billion dollars for advanced weaponry to arm the Afghan rebels. This includes top-of-the-line, state-of-the-art anti-aircraft and anti-tank rockets as well as other highly sophisticated killing devices.
Philip Seymour Hoffman as usual is scintillating and brilliant – here playing a damaged but ultra-smart CIA manipulator, and it is in the exchanges between Hanks and Hoffman's characters where the comedy soars. Rarely is movie humour laugh-out loud and also smart. This hits the spot time after time with a biting satirical edge that makes you both laugh and weep at the state of the world (often simultaneously).
One other major plus is the length of the picture. The film is based on George Crile's fat book of the same title. The temptation for screenwriter Aaron Sorkin (his claim to fame is The West Wing) must have been to make a fat movie, but what we get is a breath-taking 90 odd minutes of great story with sweeping implications.
This film deserves to be seen and to be recognized for finding an extraordinary balance between the darkest of dark subject matter and the lightness of touch of it's sparkling and witty script. This is definitely a thumbs up!
He said/She said: These things happened. They were glorious and they changed the world... and then we ****** up the endgame.
Watch it if you liked: The Sum of all Fears
Movie Hall of Fame: No
Tagline: A stiff drink. A little mascara. A lot of nerve. Who said they couldn't bring down the Soviet empire.