From a retailer to a visionary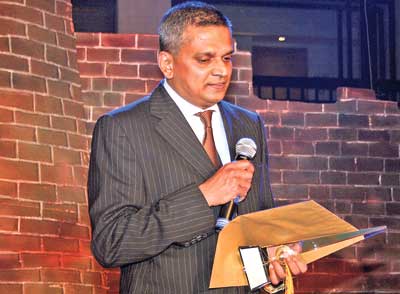 After receiving the CIMA award
Last week Ranjit Page walked away from the CIMA- Janashakthi Pinnacle Awards 2007, the most prestigious corporate awards in Sri Lanka, having bagged the title of 'Business Leader of the Year'.
"I collected this award on behalf of more than 5000 people who work with me. And I didn't collect it for running a profitable supermarket chain or building a successful business empire.
Our team received this honour because we have carved out a larger, more noble role for business than just making profit. We have changed the way business operates and thereby we have led a revolutionary shift in corporate strategy," Ranjit Page, CEO of Cargills (Ceylon) Ltd, told The Sunday Times FT.
It all started with a chance meeting with a group of farmers back in 1999. "Back then I thought there was no further potential for growth in modern retail. I was looking around for other potential ventures when I met these farmers by pure accident. That accident changed my life and my business. That day I realized that business needed to play a bigger role in helping our farmers who are deprived of any real profit due to inefficient supply chain management. What started off as a small scale vegetable collection point where a few kilo grams were transported every week, has grown to a farmer base of 10,000 and 9 collection centres islandwide including the Ampara district," Page said.
Investing in agriculture
Cargills today directly partners farmers across Sri Lanka directly collecting Rice, Vegetables, Fruits and Milk at a price which is always guaranteed to be 20 percent higher than their production cost. "But it doesn't end there for us. What we have done is we have built an enduring and binding relationship with our rural farming community providing them technical and technological inputs. Our field officer force is consistently working with the farmers benchmarking their products against global standards of quality and food safety. We also successfully established a forward contracting system enabling farmers to gain easier access to credit. We are opening markets and opportunities for our rural farmers both here and abroad, directly impacting their quality of life," explained Page.
He said their business model is unique. Cargills identifies a social or economic problem that can be addressed within the parameters of its business and start working backwards. "We have what we call a Business Intelligence Unit where we have a lot of brains working on meaningful socio-economic intervention. For example we as a nation have a serious problem with regard to paddy cultivation. Rice is our staple food but we are still short in production and at the other end of the scale we have farmers who are destitute due to drastic price fluctuations and consumers who suffer due to unsustainable supplies. Now we can't solve all this in one go. But we can make a difference."
Cargills has moved forward to brand rice. "We have today given rice a brand value and its farmers a guaranteed market and price in line with our ethos of fair trade. But this is just phase one of a long term project of creating a sustainable market both for the farmer and the consumer," he added.
Global crisis
This focus on agriculture is not just about its heavy business involvement in the food industry. "Yes we are in the business of food. But that in itself has given Cargills the opportunity to make a meaningful intervention into a crisis that is gripping the world. The world is grappling with a food shortage with stocks at their lowest in 30 years, food prices have gone up one average by 40% this year. Every year 15 million children die from hunger. And Sri Lanka is far from immune to this crisis. With rural Sri Lanka accounting for 88% of the poor in the country, it's a case of now or never for us to invest in agriculture and Cargills has the unique opportunity to make a difference to these larger global issues," the CIMA winner observed.
Enhancing youth skills
Page says the company wants to help build a stronger nation. "If we look at our economy our budget deficit is covered due to the foreign remittances extracted from arduous employment of unskilled labor mostly in the Middle East. Back home unemployment and under-employment is a major issue. So we looked within our company and realized that we have a great training programme that enables young people to become professionals of global stature in the Food Business. So we thought to ourselves why not give this opportunity to the youth who need it. Today we have opened opportunities to Sri Lanka's most underprivileged youth through a non-profit venture The Albert A. Page Institute of Food Business."
The Institute gives its students practical expertise in the areas of food manufacturing, marketing, retailing, food service, food safety and quality. Its courses are accredited by an international board of study which comprises leading figures in the global food business.
The company has also been recognised by the likes of the Bill and Melinda Gates Foundation which is looking at Cargills as a success story of sustainable private sector driven rural development and want to replicate the model elsewhere in the region and outside.
The Cargills CEO explained, "A project team of the Gates Foundation, WolrdAgInfo visited us and studied our model extensively. Now they want to work with us and study us as to how a private company can take the dividends of its business to the masses."
The WorldAgInfo team proposes that "a case study be developed about Cargills which highlights the information supply and technical support networks which have been developed to benefit smallholders, consumers and Cargills alike." They add that "Special attention will be given to the multiplier impact that Cargills has had on the broader agricultural sector in Sri Lanka and that lessons will be drawn from this country-wide success story for the benefit of private and public sector initiatives in both South Asia and Sub-Saharan Africa."