Delegates delighted with Sri Lanka Tourism offer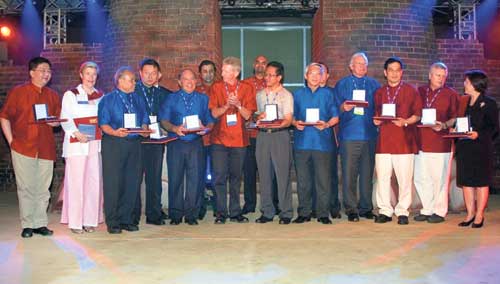 Awards for delegates
The global travel industry organisation, the Pacific- Asia Travel Association (PATA), successfully concluded its Board of Directors Meetings and the Annual General Meeting in Colombo on Monday at the Cinnamon Grand Hotel.
Chief Executive Officer of PATA Peter de Jong said, "This AGM sees the participation of a large number of members at a Board Meeting and AGM. We have 129 delegates and 17 spouses at this years meeting and it is a show of confidence in the destination."
Sri Lanka Tourism and the PATA Sri Lanka Chapter were congratulated by the delighted delegates who were unanimous in voicing their pleasure and it was best summed up in the words of Alwin Zecha of Pacific Leisure when he said, "A wonderful event.
One of the best I have attended". Outgoing chairman Brian Deeson said, "Sri Lanka is a wonderful destination. All the elements are here to be Asia's No.1 destination." Peter de Jong, confirming PATA delegates willingness to visit Sri Lanka, said "Of the 129 delegates who had confirmed participation only one delegate asked me about travel advisories and all others were confident of Sri Lanka Tourism's ability to successfully host the AGM and the Board of Director's Meetings". Hiran Cooray of the PATA Board of Directors said, "I have been a PATA member for 12 years and this is one of the highest attended board meetings and it shows that the PATA family is loyal to destination Sri Lanka. Good relations and strong bonds established over the years have proved that even in difficult times PATA members remain loyal."
PATA Life Member and former Chairman, Inder Sharma of India, commending on the organisation said, "Sri Lanka has once again highlighted the warmth of the hospitality of her people. I am so happy my wife and I came once again at this time".
Khun Phornsiri Manoharn, Governor of Thai Tourism Authority, said, "The Thai delegation is thrilled to be here. We have so much in common and you showcased it all so well".
The Thai Tourism Authority hosted a luncheon function at the event to showcase the "PATA CEO Challenge 2008 on Confronting Climate Change" at the end of this month in Bangkok.
After the conclusion of the official sessions on Monday, delegates left for excursions to Kandy, Sigiriya and Galle.
Chairman of the Host Organizing Committee, Renton de Alwis attributed the success of the event to "good planning, hard work and dedication" of the Sri Lanka Tourism team.
The Pacific Asia Travel Association is a global organization with headquarters in Bangkok, Thailand.
The headquarters is home base for PATA's Asia Division and PATA's strategic units of Membership, Intelligence, Communication, Advocacy and Crisis Management, Networking, Experience and Outreach. PATA also maintains regional offices in Oakland, California, USA; Sydney, Australia; Frankfurt, Germany; Beijing, China and Dubai, U A E.