Jeyaraj: Probe on who failed and what next
Car loaded with 60 kilos of explosives was to be used against another VIP

Lull in fighting but casualty figures of past two months tell real story of war
A man, not more than 35 years in age, hovered around the Kanthi Playground at Weliweriya from the early hours of last Sunday. He wore a black T-shirt and a black "three quarter" shorts. Around 7.45 a.m. when Highways Minister and Chief Government Whip, Jeyaraj Fernandopulle was flagging off a marathon race, he moved from behind and detonated explosives reportedly strapped to his waist. The charge hit right below Mr. Fernandopulle's chest instantly mangling the rest of his body and severing his legs. Fourteen others died and 83 were injured. Some are in a serious condition in hospital.
That Mr. Fernandopulle was a high profile target for the Liberation Tigers of Tamil Eelam (LTTE) was known in the security establishment for months. There were intelligence warnings earlier of LTTE attempts to infiltrate Sinhala speaking cadres to a group of Bandaranaike International Airport (BIA) taxi operators who were opposed to him. This group had alleged that Mr. Fernandopulle had favoured a rival group in finding better business opportunities at the BIA.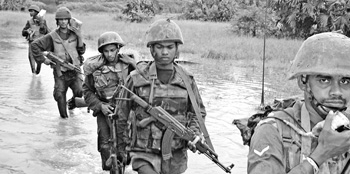 Troops in the Mannar battlefront. Pix by Ranjith Jayasundara
When that did not materialise, a separate hit team had been tasked to assassinate him. The identity of their handler was known. He was said to be operating under a person who was identified by his nom de guerre Kathiravan. Whether this group carried out the attack is not clear. However, the assassin had used a false National Identity Card that bore the name of a Muslim civilian from Valachchenai.
His name was given as Vellathambi Mohammadu Ameen (NIC No: 862763479V). The name and address have turned out to be false. Detectives are following up on phone numbers contained in a SIM card inside a damaged phone found at the scene of the incident. The Government Analyst has opined that the weight of the explosives used by the suicide bomber in the assassination of Minister Fernandopulle was less than five kilogrammes. In contrast to other suicide attacks where steel balls have been used, there have been none during last Sunday's attack.
On March 13 at a top-level security conference, the seriousness of the threat on Mr. Fernandopulle was discussed. So much so, President Mahinda Rajapaksa was to warn him about the threats and ask him to curtail his movements.
Despite all the warnings, Mr. Fernandopulle fell victim to a Tiger guerrilla plot. Some complain he lowered his guard. However, he is a politician and the need to keep in touch with the people, be at sporting events or at other functions, is necessary for not only him but also others in his position. That was why he was assigned personal protection from specialised units. One such unit or more failed in ensuring his security. There was a total security lapse. Can Mr. Fernandopulle be blamed for that? Now, some of them are saying they were unaware he had an engagement in Weliveriya last Sunday morning.
It is ironic indeed. Whilst they were unaware, the LTTE was fully aware that Mr. Fernandopulle was taking part in a sporting event and was to flag off a marathon race. The event has been advertised through billboards, posters and with even reports in the media. Evidently, those who secretly plan the assassinations and attacks in the South from the Wanni, were able to learn from them. As has been the regular practice, investigations will get under way in the glare of wide publicity but those responsible for the lapses will go unpunished.
The Ministry of Defence has named a top-level team to conduct a probe to identify the security lapses. Major General Lawrence Fernando, Chief of Staff of the Army and now Commandant of the Sri Lanka Army's Volunteer Force, heads it. Other members are Brigadier H. Hathurusinghe, Commanding Officer of the Operations Command, Colombo (OCC), Brigadier B.A. Perera, Commanding Officer of the Army's 112 Brigade and Sisira Mendis, DIG (CID). Their probe will be independent of the investigation that a CID team is conducting.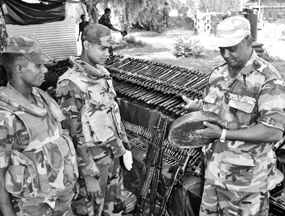 Troops check weaponry
The fact that the LTTE had been targeting a number of VIPs including Cabinet Ministers since the abrogation of the Ceasefire Agreement in January, this year, has caused serious concern for the security authorities. This is particularly in the backdrop of the recovery of just over 60 kilos of plastic explosives in a house in Digana, barely ten kilometres from Kandy. The move is the result of a highly successful breakthrough by officers of the Terrorism Investigation Department (TID). A suspect in their custody, described as a close confidant of a Cabinet Minister.
The explosives are said to be part of a consignment which a member of a religious group had smuggled from the Wanni. A part, it has been found, was taken to Nuwara Eliya. This quantity has not been found yet. What has come as a shock are revelations of a suspect that the entire load of over 60 kilogrammes were to be carefully concealed in a car. The plan had been to ram the vehicle into one used by a leading personality. If the use of just five kilogrammes of explosives in Weliveriya last Sunday led to the deaths of 15, the impact from the use over 60 kilogrammes would have been much higher.
Tiger guerrilla plans to carry out attacks during the national new year season have prompted the authorities to strengthen security measures in the City of Colombo and other principal towns. The move followed warnings from state intelligence agencies.
There was a relative lull in the battlefields of the Wanni in the past days. In the Mannar sector in particular, reports from the area say, groups of civilians have abandoned the Madhu Church and its environs. "Only six priests, two nuns and five civilian assistants remained in the church area," says Rev. Fr. Anthony Gnanaprakasham, Parish Priest of St Anne's Church, Vankalai.
On March 26, he had accompanied the Bishop of Mannar, Rt. Rev. Rayappu Joseph, to Kilinochchi for a meeting with LTTE Political Wing leader, P. Nadesan. Later, he had been told to accompany a priest who had arrived from Madhu for the meeting.
"When we reached the church, there were only a small group of villagers remaining. Other had left. Last week there were heavy artillery exchanges between the Army and the LTTE," he said. During the few days before we left Madhu, Rev. Father Gnanaprakasham said "we could not even go out to collect water."
The parish priest was among a party that had taken the sacred Statue of Our Lady of Madhu from the shrine to St. Sebastian's Church at Devanpitty. One evening when firing stopped, we took the sacred statue and travelled some 35 kilometres along the Pooneryn Road, he said. He later returned to Kilinochichi to travel to Vavuniya and then to Mannar.
In the fighting in Wanni in March this year 93 security forces personnel and policemen were killed, Prime Minister Ratnasiri Wickremanayake told Parliament. The disclosure came when he moved for the extension of the State of Emergency. He said 686 security forces and police personnel were wounded during the same period. Whilst 38 civilians died, 21 more were injured during the same period, he disclosed.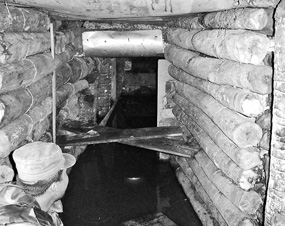 A flooded bunker in Mannar defence lines
In Mr. Wickremanayake's absence, during the previous debate on the extension of the State of Emergency Nimal Siripala de Silva, Leader of the House, told Parliament that in February this year, 104 soldiers and policemen were killed. He said a further 833 were wounded.
Hence, for February and March this year, a total of 197 security forces personnel were killed and 1519 injured. On an average, the figure works out to over three deaths and more than 25 being injured per day. The main opposition United National Party (UNP) insists that the figures are much higher. Even if they are not, the figures revealed in Parliament are food for thought to those closely following the ongoing Eelam War IV.
The monthly accounts in Parliament are at variance with other official claims which are much less whilst Tiger guerrilla casualty figures are much higher. A greater discussion on this aspect, important to Sri Lankans who look eagerly to the guerrillas being weakened, cannot be done due to personal constraints. But, the official counts given in Parliament give the discerning an insight.