Duminda Attygalle receives "Raba Gunasekera Award"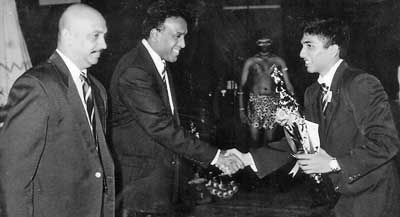 Duminda Attygalle received the "Raba Gunasekera Memorial Award" for the "Youngest Coloursman in Rugby Football 2007" at the Royal College during the annual colours awards ceremony held recently at the Navarangahala.
Former Royal Captain Rohantha Pieris and Ex Royal Rugby Coloursman Dil Pieries seen here presenting the trophy.
Duminda Attygalle of Royal College became the recipient of the prestigious Raba Gunasekara Memorial Award at the Royal College Annual Colors Awarding Ceremony held at the Nawarangahala under the distinguished patronage of Capt Tony Anghie. M/s. U L Kaluarachchi and Upali Gunasekera Principal Royal College was the Guests of Honour.
Duminda Attygalle also had the rare honour of being the Youngest Coloursman of the year 2007, the victorious Rugby Football team of Royal College. In addition to these awards he received a cash reward of Rs. 25,000/-.
Attygalle, who got on to the oval shaped ball game as a 11 year old, went on to captain the Royal College under 13 and 15 teams, and he also played for the under 17 team in 2006.
It was Bilal Hassen, who won his Raba Gunasekara Memorial Award the year before. Late Raba Gunasekara was the Captain of the Royal College Rugby Football team in 1979 which won the Bradby Shield, convincingly beating the Lions.