Champaka joins the 'Tigers'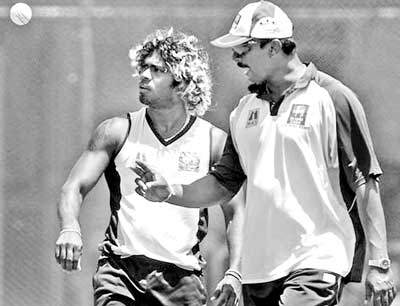 Ramanayaka with one of his favouritie pupils Lasith Malinga
Former Sri Lanka opening bowler and national fast bowling coach Champaka Ramanayake left for Bangladesh yesterday to take up his posting as the fledgling nation's new fast bowling coach.
The former Tamil Union and Mahinda Collage medium fast bowler headed Sri Lanka's fast bowling arm for the past seven years where he almost transformed the Indian sub-continent nation from the spin accented one to a seam oriented one.
"We believed even at that time that we were a spin oriented nation. But, I believe that it were the fast bowlers who did the bulk of the work at that time till Muralitharan came along and changed the whole flow. However I am happy that at present Sri Lanka persists more on fast bowlers than spinners.
"All these present day fast bowlers including Lasith Malinga, Farveez Maharoof, Ishara Amarasinghe, Chanaka Welagedera, Nuwan Kulasekera, Kaushalya Weeraratne and a host of others went through my scrutiny and we developed them into good fast bowlers on our own soil at the fast bowlers academy' Speaking on his present offer Ramanayake said "The job offer was very attractive and challenging, and was too good to think otherwise. Bangladesh is an emerging nation and with the talent on offer who knows that we would be able to produce a world class fast bowler."
Finally Ramanayake said that he intended coming back in two years time and then would be glad to get back to the main stream once again if his services are required.
Champaka was joined the national spin bowling Coach Ruwan Kalpage who would be in Bangladesh as the Academy head coach.