Push yourself out of the comfort zone
After a grueling flight we are finally in the West Indies for what is a crucial tour for us. Our performance in the CB Series was bitterly disappointing and we are all completely focused on bouncing back during the coming weeks. Sri Lankans pride themselves for their cricket and we really want to give our supporters something to cheer about again.
There has been plenty of criticism flying around in the media about our performances in Australia and we have to take that on the chin. There is no point in making excuses – the fact is that the quality of cricket we played was well below the high standards we set ourselves. We deserve to be criticised because we played very poorly.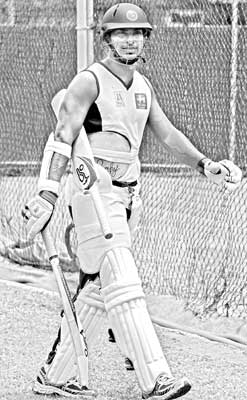 Sanga, getting ready for the responsibilities ahead
Having said that, I hope the media will strive to be objective, fair and responsible when criticising the team. Most sections of the media have been fine, which is great, but there have been a couple of articles written during the past week that were inaccurate and irresponsible. We welcome constructive criticism, but personal and unsubstantiated attacks are unwarranted and unhelpful.
I thought the bowlers acquitted themselves well on the whole. Ishara Amarasinghe put together a couple of really impressive performances on what was his first major run in the team. He has got pace, bowls some wicket-taking deliveries and has a good heart. Lasith bowled really well too and Nuwan and Vaasy also had good days.
However, the batsmen were really poor. Good starts are essential and unfortunately we consistently lost wickets early. Too many middle order players were also out of form which then exacerbated our problems. When we went into the World Cup last year we had largely the same players but we were all in fairly decent form. In Australia, though, too many players were unable to bat themselves back into form.
During the last couple of weeks since being knocked out of the tri-series we've all had an opportunity to sit down and do some soul-searching. That's important. As an individual, you need to analyse and understand what went wrong with your game. We need to be willing to ask yourself difficult questions if you want to get better.
On a personal level I am of the belief that you have to be willing to push yourself out of your comfort zone if you want to get better. You cannot just exist. You must always strive to get better in every practice and every game. We did this really well in 2006 and early 2007 and we must start doing this well again.
Hopefully, the fact that we start with the test series will help us regain some confidence. We played some excellent Test cricket during our last series against England. If we can continue where we left off against them then we can definitely aspire to winning our first series in the West Indies. The return of the Test specialists like Michael Vandort, Thilan Samaraweera and Prasanna Jayawardene will also inject some freshness into the dressing room.
The loss of Lasith, Dilhara and Farveez due to injuries is obviously a blow in terms of our bowling, but this also has to be viewed positively. We are fortunate to have some exciting fast bowlers around at the moment and competition for places is getting tougher and tougher. This will be a great opportunity for guys like Amarasinghe to stake a claim for a permanent place.I gather that the dropping of Sanath for the ODI leg has stirred up plenty of debate back home. All I can say is that Sanath is a legend of the game, a true match-winner and a great ambassador for Sri Lanka for many years. Leaving him out was a very difficult decision for the selectors. I know he will have been very disappointed and he'll now be focusing on scoring lots of domestic runs to get back into the team.