Taking stock of ourselves
After spending just twelve days in Sri Lanka, we have embarked on another tour-to the West Indies where we have happier memories in recent times, having reached the finals of the World Cup last year. I am aware that the recent tour to Australia has sparked off a lot of discussion about the state of our cricket-and that is the way it should be. Australia was an eye opener for all of us and we should learn our lessons from Down Under.
But, at the same time it is equally important for those of us in the team to get on with the tour before us. So, as far as we are concerned, Australia is now history. Rather, we are looking forward to making history in the month to come.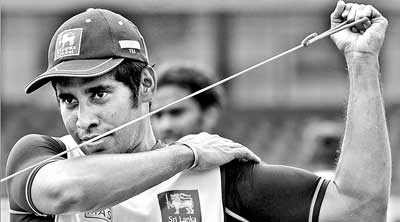 Vass taking each match at a time
That is because Sri Lanka has never won a test match in the West Indies. We have played two series in the West Indies and lost both of them. On current form, we appear to have a significant chance of reversing our fortunes during this tour.
This was uppermost in our minds when we trained in preparation for the tour. Even though we spent only a dozen days in Sri Lanka after returning from the tour to Australia we were put through our paces.
Some of the squad were engaged in matches while others had five days of intensive training. Training started on the Thursday after we returned and continued until last Tuesday when the entire team had a session of batting, bowling and fielding drills.We know that Sanath not being selected and Murali being rested have grabbed the headlines but the team is keen to focus on the cricket, rather than on these matters. We need to perform to our potential which we probably didn't do in Australia and that is what matters most now.
Sanath is an unique kind of cricketer who has that ability to win matches single-handedly. He performed so well until his last tour. Unfortunately with a player of his calibre public expectation is that he will play a brilliant innings in every match and win the game for Sri Lanka.
But knowing Sanath and knowing that his strength is his determination which has got him this far, I would expect him to now do exceptionally well in domestic cricket so he could come back to the national squad.
Murali's non-inclusion was for a different reason. The selectors would like him to play on until the next World Cup. Therefore, they realise that he needs to be carefully managed and they would not want to risk injuries to him with over-exposure. So, the games he plays will be carefully chosen and test matches will be the priority.
This is in keeping with the strategy to identify the right players for the next World Cup. The squads for the tests and one day internationals need to be looked at separately and youngsters who would be expected to play in the next World Cup will need to get exposure at the highest level.
In keeping with this plan-and because of injuries to Dilhara Fernando, Lasith Malinga and Farveez Maharoof-it will be a squad of young fast bowlers that will play against the West Indies: Ishara Amerasinghe, Nuwan Kulasekera, Thilina Thushara Mirando and Chanaka Welagedera are in the test squad while Kaushalya Weeraratne comes in for the one-dayers.
Our tour opens tomorrow (Monday) with a practice game in Guyana after which we go straight in to the first test in Georgetown next Saturday. Guyana is not the most exciting city to be in but it is the Providence Stadium, where we will be playing which is known for its good batting track.
The second test will be played at the Sir Frank Worrell ground in Trinidad and that is a venue where traditionally, pace bowlers have done well. Therefore, it will be a challenge to see how the new faces among our pacemen respond to these conditions.With so many other fast bowlers in the squad, it is a challenge for me too. I have led the pace attack for a long time now-just as Murali has led the spin department-and I know I have to perform at my best. I am at that stage of my career where I have to constantly assess my own performance, game by game, tour by tour.
The boys are aware that West Indian cricket is also going through a transition phase with stars such as Brian Lara retiring. It will always be difficult to replace a Lara but nevertheless, they have the likes of Shivnarine Chanderpaul, Ramnaresh Sarwan and of course, their skipper Chris Gayle. They also have the advantage of playing on home soil.
A two test, three one-day international tour will probably be a good opportunity to assess our strengths and weaknesses and adjust to the conditions-in contrast to the Australian tour where we were playing a one day international almost every third day. The pace of this tour will be less hectic-but obviously it will be of no less importance. This tour gives the boys a window to reflect on the past few months, learn from any mistakes that we may have made and lay the foundations for the next few years. In that sense, it will be a crucial tour for every member of the squad. We are determined to do that and play at our highest potential and, if possible, make history in the West Indies.